---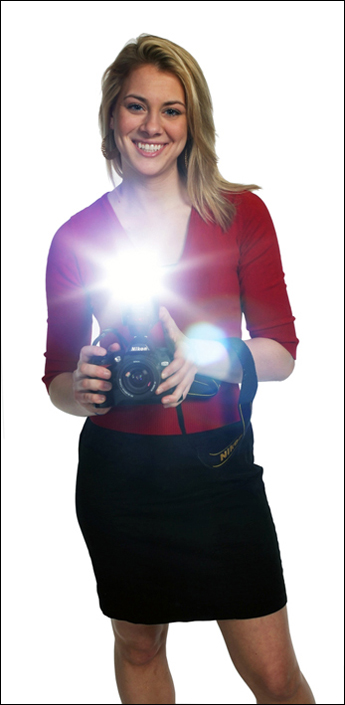 Video: Northwestern senior Ann Clark (J08) talks about her work with the Oklahoma City National Memorial and Museum and her upcoming internship with People magazine in London. For more video visit our channel on YouTube.
Sitting in her third-grade classroom in Oklahoma City, Ann Clark heard a loud crash, like an old metal filing cabinet being slammed shut. A little while later at recess, she remembers people praying and students being pulled out of school. It was April 19, 1995, and the Alfred P. Murrah Federal Building had just been bombed.
"The amazing thing about the response to this terrible tragedy was the outpouring of community support," Clark says. "Everyone came together on a base human level, no matter what rank or job or income, even if they didn't know anyone affected."
Years after the attack, Clark found a way she could help using her special talent: photography. She began taking photos — images of the memorial and events — for the Oklahoma City National Memorial in 2002, eventually becoming lead photographer, a post she has kept while attending Northwestern. The memorial organizers even flew her back for its special 10th anniversary events.
"I think I have a natural eye for photography," Clark says. "I'm able to recognize when something would be a great picture. I compose it in my head and decide if it would translate well as a flat image."
Clark began studying photography when she was only 14, thanks in part to the influence of her mother, who also enjoys taking photos in her spare time. Clark fell in love with the art form when she developed her first roll of film in a darkroom.
"You have this blank white piece of photo paper that you expose to the negative and put in this tray of chemicals," Clark says. "Suddenly the image starts to pop up. It was like magic to me."
As a senior in high school, Clark wrote a walking tour book to tell the history and significance of the Oklahoma City memorial through her photographs and detailed captions. Following that book's success, Clark wrote a second, more in-depth tour book for the museum, with the focus on artifacts and memories. Both books won multiple awards and are the only guidebooks for sale in the museum gift shop.
Clark, a journalism major, was able to combine both writing and photography again while studying Spanish near Seville, Spain, during her junior year. She wrote a column in Spanish for the newspaper La Semana de Dos Hermanas and incorporated a corresponding photograph.
Clark hopes to continue weaving her photography and journalism skills professionally. She dreams of working for National Geographic.
In the fall she'll start an internship at the London bureau of People magazine.
— Ryan Morton (J08)
Photo by Andrew Campbell