---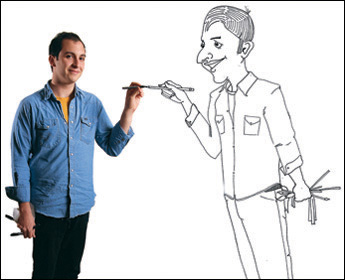 Video: Alex Robins (WCAS08) calls cartoonists "funny, pithy and rebels at heart." He discusses his love for art and reflects on his visits with cartoonists in 14 countries as part of a Circumnavigators Club research fellowship. For more video visit our channel on YouTube.
This past fall Alex Robins built an entire middle school science fair — complete with multiple displays and an erupting volcano — from scratch for an art project. In February he attempted to memorize Ray Bradbury's novel Fahrenheit 451 and present it as a performance piece (it wasn't a perfect recitation, but he managed to make a statement). And in his free time he's the head writer for the sketch comedy group Northwestern Sketch Television. He's also a former editorial cartoonist for the Daily Northwestern.
Robins, who is majoring in art theory and practice and philosophy, loves art in all forms, and ever since he discovered Mad magazine, he's had an affinity for cartoons. In 2006 Robins received a research fellowship from the Chicago chapter of the Circumnavigators Club. The grant gave him an opportunity to travel to 12 countries in 100 days to study the impact of political cartoons on society.
"I actually got the grant before the Danish cartoons came out," he says of the depictions of the prophet Muhammad that prompted violence in the Muslim world. "But after they came out I never had to explain why I wanted to study cartoons."
He says the project was eye opening.
"There's a lot of hemming and hawing right now that the cartoon is a dying art," the senior from Northfield, Minn., says. "But I was able to see how cartoons survive because of the necessity for how quickly they communicate.
"I met cartoonists in Tanzania who get paid less money for their cartoon than it costs for the bus ride to go to the office to drop it off. Yet they're still doing it."
Robins' love of art and travel descends directly from his parents, who met while teaching English in Japan. Throughout his childhood they always promoted "wanderlust and travel," he says.
Now he hopes to translate his education and international experience into a successful art career.
— Scott Sode (J08)
Photo by Nick Infusino (WCAS08)