Confirming NU-SHIP Enrollment
Confirming NU-SHIP Enrollment
Follow the instructions below to enroll (or confirm your annual re-enrollment), in the Northwestern University Student Health Insurance Plan (NU-SHIP) via CAESAR. For more information on student health insurance, visit: http://www.northwestern.edu/student-insurance/
Please note: Northwestern University requires all degree-seeking international students – students holding a J-1 or F-1 U.S. visa – to maintain enrollment in the NU Student Health Insurance Plan (NU-SHIP) for the entire time they are studying at Northwestern).
Recommended Browsers: Firefox or Chrome
Step 1
Navigate to the CAESAR login page and sign in using your NetID and password. The CAESAR homepage appears.
Step 2
On the CAESAR Homepage, click the Profile tile.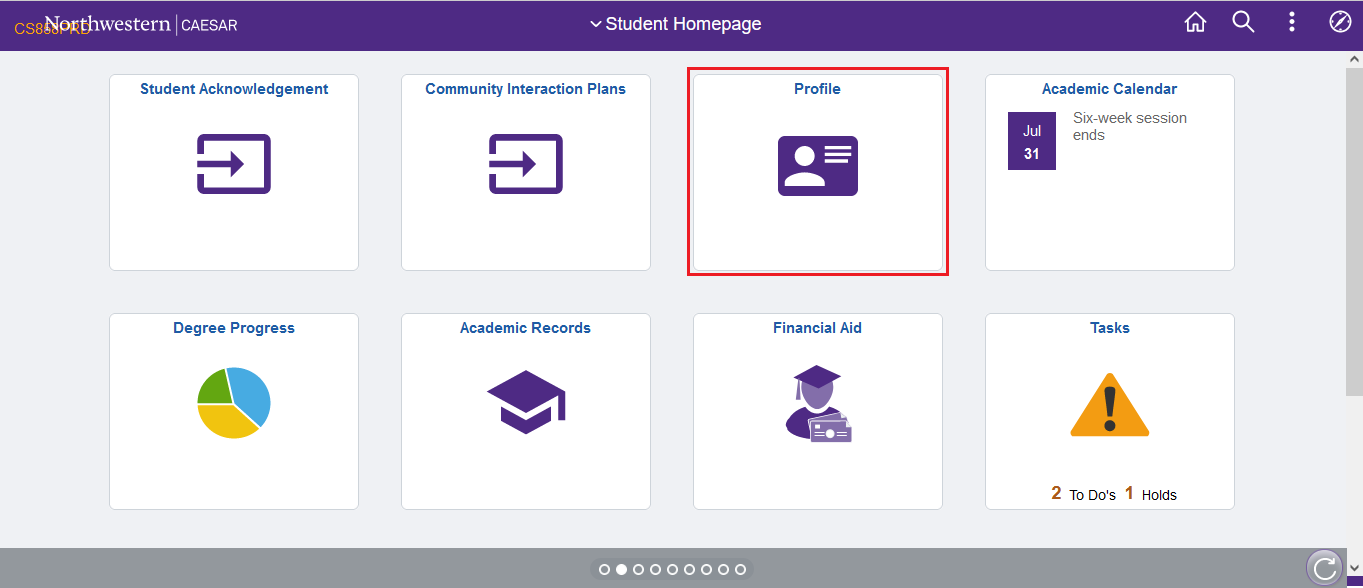 Step 3
Click on Student Health Insurance in the left hand menu.

The Northwestern Student Health Insurance page appears. Review the Northwestern insurance requirements before proceeding.
Step 4
Select Confirm my enrollment to enroll in the Northwestern University Student Health Insurance Plan (NU-SHIP) by placing your cursor inside the "○" radiobox provided to the left of the text. Press Continue to proceed.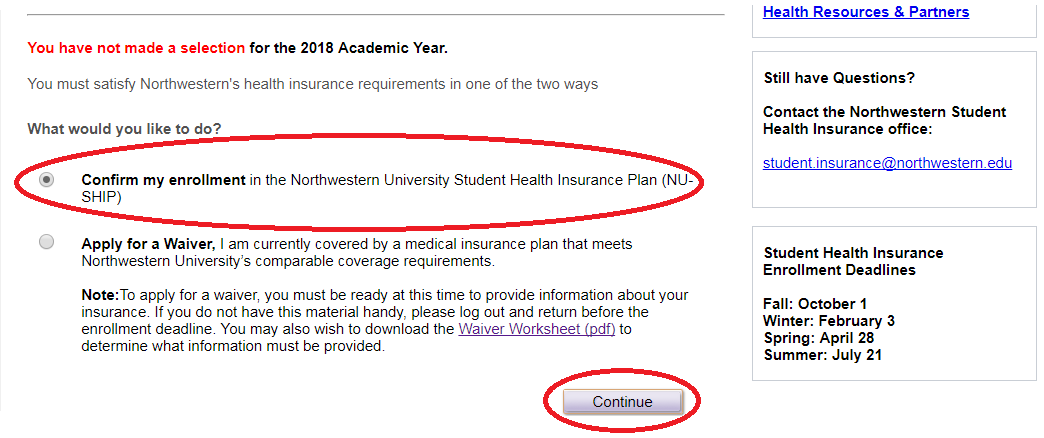 Step 5
Click on the checkbox to the left of "Certificate of Accuracy"; enter a Parent/Spouse/Other Email Address in the box provided (optional) and press Submit.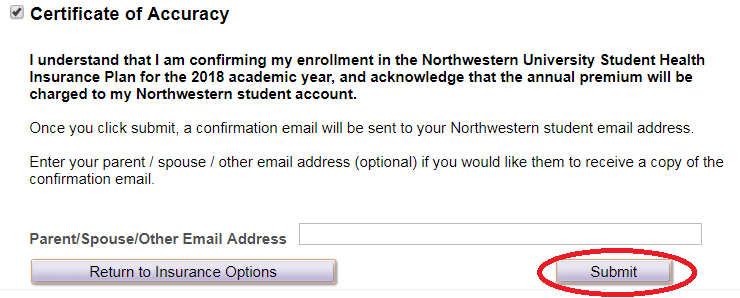 Step 6  
When the message below appears click Yes to enroll in the Northwestern University Student Health Insurance plan. Or click No to cancel and return to the Coverage Selection Form.

Step 7  
Congratulations – you have successfully enrolled in the NU Student Health Insurance Plan!
Press Printer Friendly Page to print a copy of your enrollment for your records; press

 to return to your CAESAR home page or press Return to Insurance Options to make a change to your selection.
Please note: all modifications must be made by the enrollment deadline for your term of entry (October 1 for Fall enrollees).
For detailed medical coverage info, download a copy of the 

NU-SHIP Plan Design & Benefits Summary

To review your bill on CAESAR (note: the billing cycle runs on the 10th of each month), navigate to your homepage Select the My Account Tile > View My Account. An itemized charge for the Student Health Insurance plan will appear on your Northwestern University Customer Account (after you have processed your registration).
Step 8 
To ensure account security, when you have completed your transaction, from top right of the CAESAR banner, click 
 and select Sign out to exit your session. Close your browser.
For further assistance: