Tip Sheet
Step 1
To access online grading, login to CAESAR. The Instructor/Advisor Home Page appears. If your default view in CAESAR is your Student Home Page, first select the Instructor/Advisor home page by clicking on the triangle at the top of the page.
Step 2
Select My Classes on your Instructor/Advisor Home Page.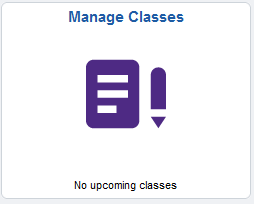 Step 3
The current, or most recent, term should default on the page. To change the term, select Change Term. Your Teaching Schedule for the term you have selected appears on the lower part of the page. (If you are a grading proxy for another course, a list of classes for which you are a Grading Proxy appears at the bottom of the page.)
Step 4
Select the Grade Roster icon for the course you are entering grades. Be sure to read the announcements on the "Grade Roster" page. Important information relevant to online grading is posted here for each term.
CAESAR allows you only to retrieve information for classes you are responsible for grading.

Step 5
Enter grades in the Roster Grade field in the row designated for each student. The grade may be entered in upper or lower case. CAESAR automatically converts all grade entries to upper case.

Step 6
Click Save frequently. If there are any grades missing, a warning message appears. You may choose to save, leaving the blank grade(s), or you may click Cancel to go back and enter the missing grade(s). You can sign in again, at any time before the deadline, to complete and finalize your grade entry.
To ensure account security, sign out and quit your browser when you finish.
Important Tips
Online grading is available in the fall, winter and spring terms from the ninth week of the quarter through exam week until 3 PM on the Monday after exams.
Please save often and remember to sign out of CAESAR when you are finished entering grades.
For more information, please refer to the Office of the Registrar web site and click on the "Faculty and Staff" link, or call the Office of the Registrar at 847-491-5234.