Approving a Grade Change - Dean Tip Sheet
Step 1
After receiving an email notification of a grade-change request, login to CAESAR using your NetID and password.
Step 2
Click on the Worklist tile, on your CAESAR Instructor/Advisor home page, to view all of the grade-change requests currently assigned to you.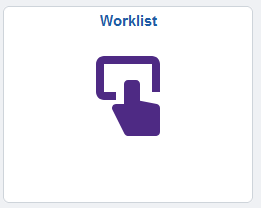 Step 3
Click in the "Link" column to view a grade-change request. This will bring you to the Approve/Deny Grade-Change Request page.

Step 4
Review the original grade and the newly requested grade, as well as any comments made by the instructor.
Step 5
Include any comments as you see fit in the "Dean's Comment" box.
Step 6
Approve or deny the grade change request by clicking the appropriate button.
The instructor and the student receive separate emails indicating that the grade-change request has been approved or denied. The instructor sees any comments that you entered, but the student does not.