Faculty Wellness Month
Northwestern offers a variety of in-person and remote options to support the physical and mental health of its faculty. Many of these options are featured free of charge during Faculty Wellness Month.
During the 2022-2023 academic year, Faculty Wellness Month will take place in October 2022, and additional programming is planned for January 2023. Faculty are encouraged to take advantage of the programs and discounts. Participants in Faculty Wellness Month activities marked with an asterisk are eligible to win an annual membership to Henry Crown Sports Pavilion ($400 value),  a free 60-minute massage or other prizes.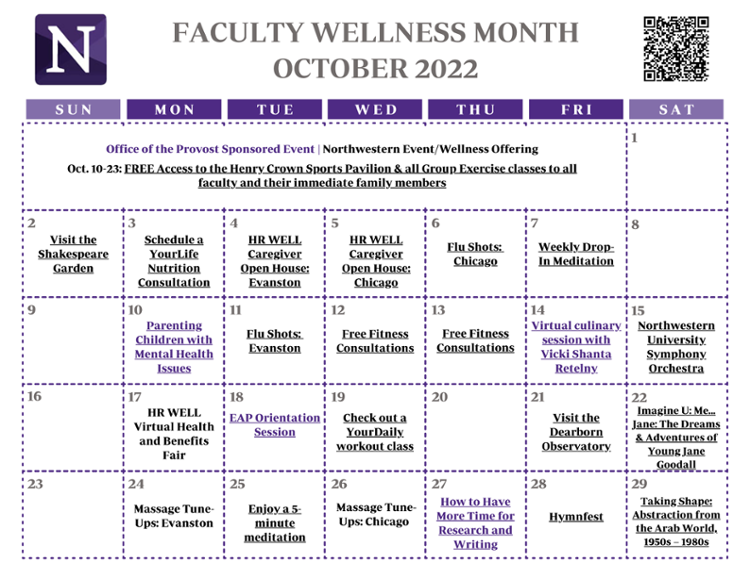 Download the Faculty Wellness Month Calendar to incorporate wellness throughout the month of October.
Wellness Month Events
Oct. 10 at Noon
Parenting Children and Teens with Mental Health Challenges by The Family Institute *
Earlier this year, the American Academy of Pediatrics sounded the alarm when it declared a national state of emergency in child and adolescent mental health. An opinion poll by the American Psychiatric Association found that more than half of adults (53%) with children under 18 in their household say they are concerned about the mental state of their children. If you know a child that may be struggling or want to understand ways to support our children, please join The Family Institute at Northwestern University on Oct. 10 for an in-depth discussion on how to address the children's mental health crisis. Register online.
Oct. 14 at 12:30 p.m.
Culinary Demonstration: Simple Everyday Meals *
Whether you are whipping up a midday or evening meal, keeping it simple is the name of the game. Join Vicki Shanta Retelny, RDN, for a culinary session on how to create nourishing, balanced and satisfying meals in minutes. You can mix and match these recipes for lunch or dinner for powerhouse meals that will keep you energized any time of day. Register online. 
Oct. 18 at Noon
SupportLinc EAP: Faculty Informational Session *
Attend this informational session to learn about Northwestern's new employee assistance provider (EAP), SupportLinc, and available services to help support you as a faculty member. EAP services also are available to household members. Hosted by the Faculty Wellness Program and HR WELL. Register online.
Oct. 27 at 1 p.m.
How to Have More Time for Research and Writing *
Although a day will never be more than 24 hours long, professors can adopt strategies to achieve their most important goals. This workshop is appropriate for tenure-eligible, tenured and non-tenure-eligible faculty members who want to have more time for research and writing. Register online.
The program will support professors to:
Set boundaries to create oases of time
Say "no" frequently and with gusto
Identify areas for "good enough" rather than great performance
Demote email from Ruler of Your Life to Undersecretary for Communications
Delegate, outsource or share both tasks and responsibilities
Also available during Wellness Month
Oct. 10-23
FREE Access to the Henry Crown Sports Pavilion + all Group Exercise classes to all faculty and their immediate family members *
Group Exercise - facility members have free access to a wide variety of classes each week (yoga, Pilates, BodyPump, spin, aqua fitness and more).
NU Faculty Memberships - If faculty decide to purchase a membership for themselves and their family members Oct. 10-22, the $100 initiation fee will be waived.
Steps to take if faculty and their family members are interested in accessing the facility:
Email recreation@northwestern.edu the following information for each individual:

Subject: Faculty Wellness Facility Access
Faculty first name and last name
Employee ID
Complete address including zip code
Date of birth
Email address
Phone number

Faculty will receive an email once they are in the system and they can begin accessing the facility with their Wildcard. Family members will receive an email with instructions on where to pick up their trial access card once they are in the system. Please allow five business for processing.
Oct. 12-13
FREE Fitness Consultations *
This 30-minute consultation includes an overview of health history, resting heart rate and blood pressure measurements, and screenings to assess basic movement patterns, flexibility and balance. Perfect for anyone who is starting an exercise program. Consultations take place in the Henry Crown Sports Pavilion Wellness Suite. Email hilary.devries@northwestern.edu to schedule an appointment from 9 a.m.-3 p.m. Oct. 12 or Oct. 13.
Oct. 24 & 26
FREE Massage 10-minute Tune-ups *
Take a quick break in the following locations for a relaxing massage tune-up! Limited spots are available. Please call (847) 467-2607 to schedule.
NU Massage Therapy Services - from Swedish, sports and deep tissue massage to hot stone and reflexology, our massage therapists customize the client experience to help them feel refreshed, less stressed and more balanced.  For more information, visit NU Recreation.  
Available All Year
Northwestern offers a variety of free resources throughout the year.
White Light Therapy: Faculty can take advantage of white light therapy in our Wellness Suite at any time.  Light therapy—exposure to artificial light—can be a safe, effective way to treat symptoms of depression, seasonal affective disorder (SAD), sleep disorders and mood disorders.  For more information, call 847-467-2607 or visit the Henry Crown Sports Pavilion Wellness Suite

.

Virtual Well-Being Breaks: Join daily 15- or 30-minute well-being breaks from your office or home. Check the daily schedule for a variety of virtual offerings, including stretch, yoga, cardio kickboxing, Pilates, Latin dance and core conditioning.
On-Demand Virtual Exercise Classes: Northwestern Recreation offers on-demand exercise classes

, available any time that is convenient for you. Classes are 30 to 60 minutes and include Bodypump, yoga, Zumba and more.