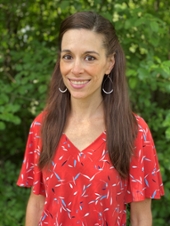 Megan Roberts
Associate Professor of Communication Sciences and Disorders, School of Communication
Megan Roberts, Associate Professor, Roxelyn and Richard Pepper Department of Communication Sciences and Disorders, School of Communication at Northwestern University. She is the principal investigator of the Early Intervention Research Group and a licensed speech-language pathologist with over 15 years of experience working with young children with developmental delays and their families.
Roberts' practice as a speech-language pathologist provided front-line experience with families of children with developmental delays, exposing gaps in the current knowledge and motivating her to pursue a doctoral degree at Vanderbilt University, which she received in 2011. Roberts joined Northwestern in 2013 and started the Early Intervention Research Group to examine how best to support early language development in young children with developmental delays.
In 2015, Roberts co-founded the Developmental Diagnostic Program at the Northwestern Center for Audiology, Speech, Language, and Learning. This program is a joint research and clinical endeavor that aims to simultaneously: provide comprehensive multidisciplinary evaluations for children with developmental delays and use clinical data to examine novel ways to streamline the autism diagnostic process. Roberts' clinical practice research led to the development of a multiple-threshold approach with differential weighting of assessment items that has the potential to significantly reduce the wait time for specialty autism diagnostic evaluations.
Roberts just completed two clinical trials of parent-mediated interventions for autistic toddlers, is currently running a clinical trial for children with developmental language disorders and is studying a prelinguistic communication intervention for toddlers with hearing loss. She is the Principal Investigator for several multi-million dollar grants from the National Institutes of Health, and her research is funded by the National Institute of Deafness and Communication Disorders and the Institute of Education Sciences. She has won multiple awards, including an Early Career Contributions in Research Award from the American Speech-Language-Hearing Association and the Clarence Simon Award for Outstanding Teaching and Mentoring at the School of Communication.