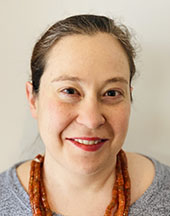 Kasey Evans
Associate Professor of English, Weinberg College of Arts and Sciences
"Anti-Racist Practices for Early British & Early American Literature Survey Courses"
Kasey Evans and Kelly Wisecup, both Associate Professors of English in the Weinberg College of Arts and Sciences, along with Harrison Graves and Nina Moon, graduate students in English, will create modules that expand the content of survey courses in British and American literary traditions in order to challenge traditional conceptions of early American studies.
Evans, Graves, Moon, and Wisecup will reframe courses in British Literary Traditions and American Literary Traditions around transatlantic connections between Great Britain, North America, the Caribbean, and Africa, the diasporic experiences of Black and Indigenous people who traveled the Atlantic, and the writings of Black and Indigenous people. Their goal is to introduce undergraduates to the literatures and histories of colonialism and probe how those literatures challenge nation-centered understandings of literary history. In addition, the revised courses will introduce undergraduates to early works by writers frequently overlooked or silenced including the many Black and Indigenous people who published or circulated writing in this period. Wisecup and Evans also aim to develop pedagogies for early literature surveys that promote equitable classroom practices and help students learn how to engage in dialogues about differences, histories of injustice, and just futures.
Evans specializes in Renaissance literature. Her current project, Renaissance Resurrections: Making the Dead Speak in Reformation Texts, considers how grief and mourning are translated into new literary forms following the Protestant Reformation.