Kathleen Hagerty
Provost of Northwestern University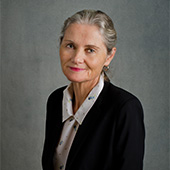 Kathleen Hagerty assumed the role of Provost on Sept. 1, 2020, after serving as Associate Provost for Faculty during the 2019-20 academic year and previously as Interim Dean of the Kellogg School of Management. Hagerty joined Kellogg more than 30 years ago and holds the First Chicago Professorship in Finance. She has earned a reputation as an accomplished scholar and respected faculty leader, with vast experience attracting and retaining top faculty in an increasingly competitive market for academic talent.
Hagerty has held numerous leadership positions within Kellogg, including serving two terms as Senior Associate Dean of Faculty and Research, two terms as Chair of the Finance Department and two years as Faculty Director of Kellogg's Ph.D. programs. She also is responsible for the development of several successful academic programs that foster partnerships across the University.
Hagerty has studied the micro-structure of securities markets, disclosure regulation, insider trading regulation and the effectiveness of self-regulatory organizations. Her research has appeared in journals such as The Quarterly Journal of Economics, Journal of Political Economy and The Journal of Finance. She received a Bradley Foundation Research Fellowship and received the D.P. Jacobs Prize for the Most Significant Paper in the Journal of Financial Intermediation. She also has been a member of the editorial board of the Review of Financial Studies and the Journal of Financial Markets.