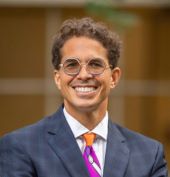 Paul Gowder
Professor of Law, Pritzker School of Law
Paul Gowder has made tremendous contributions to the rule of law, social and racial equality, democratic theory, institutional and organizational governance, law and technology, and classical Athenian law and political thought. His pioneering work inspires scholars to rethink how the rule of law operates in contemporary society, especially in the context of the current debates surrounding critical race theory.
Gowder publishes widely in leading law reviews and peer-reviewed journals. An elected member of the prestigious American Law Institute, Gowder served as a consultant to Facebook, advising the company's "civic integrity" team on the normative boundaries around protecting elections and other democratic institutions. He is a former civil rights and legal aid lawyer.
Read the official announcement of Gowder's award.