Returning Student Room Selection Process Overview
Returning Student Room Selection is the process by which returning residential undergraduate students secure on campus housing for the upcoming academic year. All current first year students must complete the contract and process in order to fulfill the two-year residency requirement. Current second year and upper division students can complete the contract if they are interested in living on campus again next year. All students who intend to live in their Fraternity or Sorority house must complete the contract.
Important Dates for the 2023 Process 
| | |
| --- | --- |
| DATE | PROCESS |
| March 1- March 15 | Contract available for returning (current) students |
| Thursday, April 13 | Priority Numbers will be sent out via email  |
| Tuesday, April 18 | Returning Students Room Selection Begins |
| Friday, April 21 | Returning Student Room Selection Ends |
| Friday, April 28 | 23-24 room assignment finalized and sent via email. |
See below for specific selection dates and times based on priority number. 
Video Tutorial
A video tutorial is available to walk you through the returning undergraduate student room selection process.
Selecting Suites
Schapiro Hall
Single suites are comprised of 4 single bedrooms sharing 1 common bathroom. To select these suites, you must have a group of 4 students.
Kemper Hall
Single suites are comprised of 6 single bedrooms sharing 2 common bathrooms. During room selection, you can choose 1/2 the suite (3 single bedrooms that share 1 bathroom) only if you have a group of 3 students.
RESIDENCY REQUIREMENT
All rising sophomores are required to live on campus. Rising sophomores who intend to live in a fraternity or sorority house as part of the residency requirement are still required to complete a housing contract. After your fraternity or sorority house assignment has been verified for the coming fall quarter, your housing contract will be noted as living in fraternity and sorority housing.
ALL GENDER HOUSING
All Gender Housing allows students, regardless of sex, gender, or gender identity, to share a room or suite. You will be able to select All Gender Housing as a preference in the room selection process.
CONTINUOUS HOUSING
Continuous Housing allows eligible students to stay in undergraduate housing through Winter Break. You will be able to select Continuous Housing as a need in the room selection process. 
HOUSING CANCELLATION
Rising second-year students may not cancel their housing contract due to the two-year residency requirement. Rising third-and fourth-year students may cancel their contract without questions or penalty until 5pm on March 15, 2023.  Students will only be released from housing for the following reasons:
Academic dismissal
Disciplinary exclusion from the University
Northwestern sponsored internship (including study abroad, Co-Op, Medill programs)
Marriage/civil union
Induction into military service
Graduation/degree completion
Approved Housing and Dining Accommodation
GET STARTED!
To get started with room selection, access the Housing Portal. To become more familiar with the process, please view the flow chart (PDF) and videos that will be available here in early March. 
 Undergraduate Student Contracting Flow Chart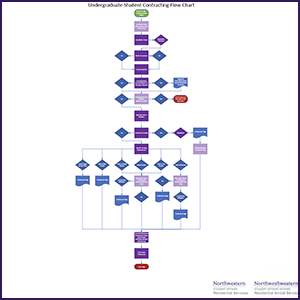 Click to view/download the flow chart PDF
SELECTION DATES AND TIMES
Tuesday, April 18, 2023 - Upper Division (3rd and 4th Year Students)
 All Gender/Single Gender/Continuous Housing 
| | | |
| --- | --- | --- |
| TIME | Priority # | Priority # |
| 9:00 AM | 1 | 25 |
| 9:15 AM | 26 | 50 |
| 9:30 AM | 51 | 100 |
| 9:45 AM | 101 | 200 |
| 10:00 AM – 10:15 AM | 201 | 300 |
Suite Style Buildings (Singles in Kemper Hall and Schapiro Hall – must fill suite)
Singles in Schapiro Hall (suite of 4 singles; must have 4 people to select a suite) and Kemper Hall (1/2 suites of 3 singles; must have 3 people to select the 1/2 suite)
| | | |
| --- | --- | --- |
| TIME | Priority # | Priority # |
| 11:00 AM | 1 | 25 |
| 11:15 AM | 26 | 50 |
| 11:30 AM | 51 | 100 |
| 11:45 AM | 101 | 200 |
| 12:00 PM – 12:15 PM | 201 | 300 |
 Foster-Walker Singles and All Other Available Single Rooms
| | | |
| --- | --- | --- |
| TIME | Priority # | Priority # |
| 1:00 PM | 1 | 25 |
| 1:15 PM | 26 | 50 |
| 1:30 PM | 51 | 100 |
| 1:45 PM | 101 | 200 |
| 2:00 PM – 2:15 PM | 201 | 300 |
 Double and Triple Rooms (do not need to fill room)
| | | |
| --- | --- | --- |
| TIME | Priority # | Priority # |
| 3:00 PM | 1 | 25 |
| 3:15 PM | 26 | 50 |
| 3:30 PM | 51 | 100 |
| 3:45 PM | 101 | 200 |
| 4:00 PM – 4:15 PM | 201 | 300 |
 Wednesday, April 19, 2023 - 2nd Year Returning Students
All Gender/Single Gender/Continuous Housing 
| | | |
| --- | --- | --- |
| TIME | Priority # | Priority # |
| 12:00 PM | 375 | 450 |
| 12:15 PM | 451 | 525 |
| 12:30 PM | 526 | 600 |
| 12:45 PM | 601 | 700 |
| 1:00 PM | 701 | 800 |
| 1:15 PM | 801 | 900 |
| 1:30 PM | 901 | 1000 |
| 1:45 PM | 1001 | 1100 |
| 2:00 PM | 1101 | 1200 |
| 2:15 PM | 1201 | 1300 |
| 2:30 PM | 1301 | 1400 |
| 2:45 PM | 1401 | 1500 |
| 3:00 PM | 1501 | 1600 |
| 3:15 PM | 1601 | 1700 |
| 3:30 PM | 1701 | 1800 |
| 3:45 PM | 1801 | 1900 |
| 4:00 PM – 4:15 PM | 1901 | 1901+ |
  Thursday, April 20, 2023 - 2nd Year Returning Students
Suite Style Buildings (Singles in Kemper Hall and Schapiro Hall)
Singles in Schapiro Hall (suite of 4 singles; must have 4 people to select a suite) and Kemper Hall (1/2 suites of 3 singles; must have 3 people to select the 1/2 suite)
| | | |
| --- | --- | --- |
| TIME | Priority # | Priority # |
| 9:00 AM | 375 | 400 |
| 9:15 AM | 401 | 425 |
| 9:30 AM | 426 | 450 |
| 9:45 AM | 451 | 500 |
| 10:00 AM | 501 | 600 |
| 10:15 AM – 10:30 AM | 601 | 1900+ |
  Foster-Walker Singles and All Other Available Single Rooms
| | | |
| --- | --- | --- |
| TIME | Priority # | Priority # |
| 12:00 PM | 375 | 450 |
| 12:15 PM | 451 | 525 |
| 12:30 PM | 526 | 600 |
| 12:45 PM | 601 | 700 |
| 1:00 PM | 701 | 800 |
| 1:15 PM | 801 | 900 |
| 1:30 PM | 901 | 1000 |
| 1:45 PM | 1001 | 1100 |
| 2:00 PM | 1101 | 1200 |
| 2:15 PM | 1201 | 1300 |
| 2:30 PM | 1301 | 1400 |
| 2:45 PM | 1401 | 1500 |
| 3:00 PM | 1501 | 1600 |
| 3:15 PM | 1601 | 1700 |
| 3:30 PM | 1701 | 1800 |
| 3:45 PM | 1801 | 1900 |
| 4:00 PM – 4:15PM | 1901 | 1901+ |
 Friday, April 21, 2023 - 2nd Year Returning Students
Double and Triple Rooms (do not need to fill room)
| | | |
| --- | --- | --- |
| TIME | Priority # | Priority # |
| 9:00 AM | 375 | 400 |
| 9:15 AM | 401 | 425 |
| 9:30 AM | 426 | 450 |
| 9:45 AM | 451 | 475 |
| 10:00 AM | 476 | 500 |
| 10:15 AM | 501 | 525 |
| 10:30 AM | 526 | 600 |
| 10:45 AM | 601 | 625 |
| 11:00 AM | 626 | 650 |
| 11:15 AM | 651 | 675 |
| 11:30 AM | 676 | 700 |
| 11:45 AM | 701 | 725 |
| 12:00 PM | 726 | 750 |
| 12:15 PM | 751 | 775 |
| 12:30 PM | 776 | 800 |
| 12:45 PM | 801 | 825 |
| 1:00 PM | 826 | 850 |
| 1:15 PM | 851 | 875 |
| 1:30 PM | 901 | 1000 |
| 1:45 PM | 1001 | 1100 |
| 2:00 PM | 1101 | 1200 |
| 2:15 PM | 1201 | 1300 |
| 2:30 PM | 1301 | 1400 |
| 2:45 PM | 1401 | 1500 |
| 3:00 PM | 1501 | 1600 |
| 3:15 PM            | 1601 | 1700 |
| 3:30 PM | 1701 | 1800 |
| 3:45 PM | 1801 | 1900 |
| 4:00 PM – 4:15 PM | 1901 | 1901+ |