Wildcat Welcome 2023
Photos courtesy of Jill Norton, Ethan Gomberg and George Pfoertner, Student Affairs Marketing; Shane Collins, Jude Appleby and Joshua Sukoff, Office of Global Marketing & Communications; and Northwestern IT.
Wildcat Welcome introduces Northwestern first-year and transfer students to campus traditions, highlights what it means to be a community member and includes time to socialize with other new students during a week of programming.
"Wildcat Welcome is a personal experience for every student. Maybe they're inspired by a student group performing at Rock the Lake or learn about an interesting class from talking to their PA,"  Executive Director for Student Transition Experiences Matt Lengen said. "It's an orientation, but it's also a chance for students to connect in an environment that's all about self-discovery."
Thousands of new students will officially become members of the Northwestern community this week. These are some of their stories.
 Jump to:
Rock the Lake Brings Wildcat Welcome to a Close
September 17, 2023
Rock the Lake brought Wildcat Welcome to a close on Sunday night, as dozens of student groups came together for their first performances of the year and introduced themselves to Northwestern first-year and transfer students. The event is a chance for new students to get to know the performing arts scene on campus before auditions in the fall.
Norris at Night Introduces Student Center to First Years and Transfers
September 14, 2023
The Norris University Center has been a fixture in Evanston for more than half a century, but first-year and transfer students got a special peek at this important hub of campus life on Thursday. Norris at Night opened up the student center to these brand-new Wildcats with activities throughout the building and an introduction to all the ways students can relax, meet up, eat, and get more involved at Norris and Northwestern.
"Creating Spaces to Have Community" - Transfer Students Navigate Wildcat Welcome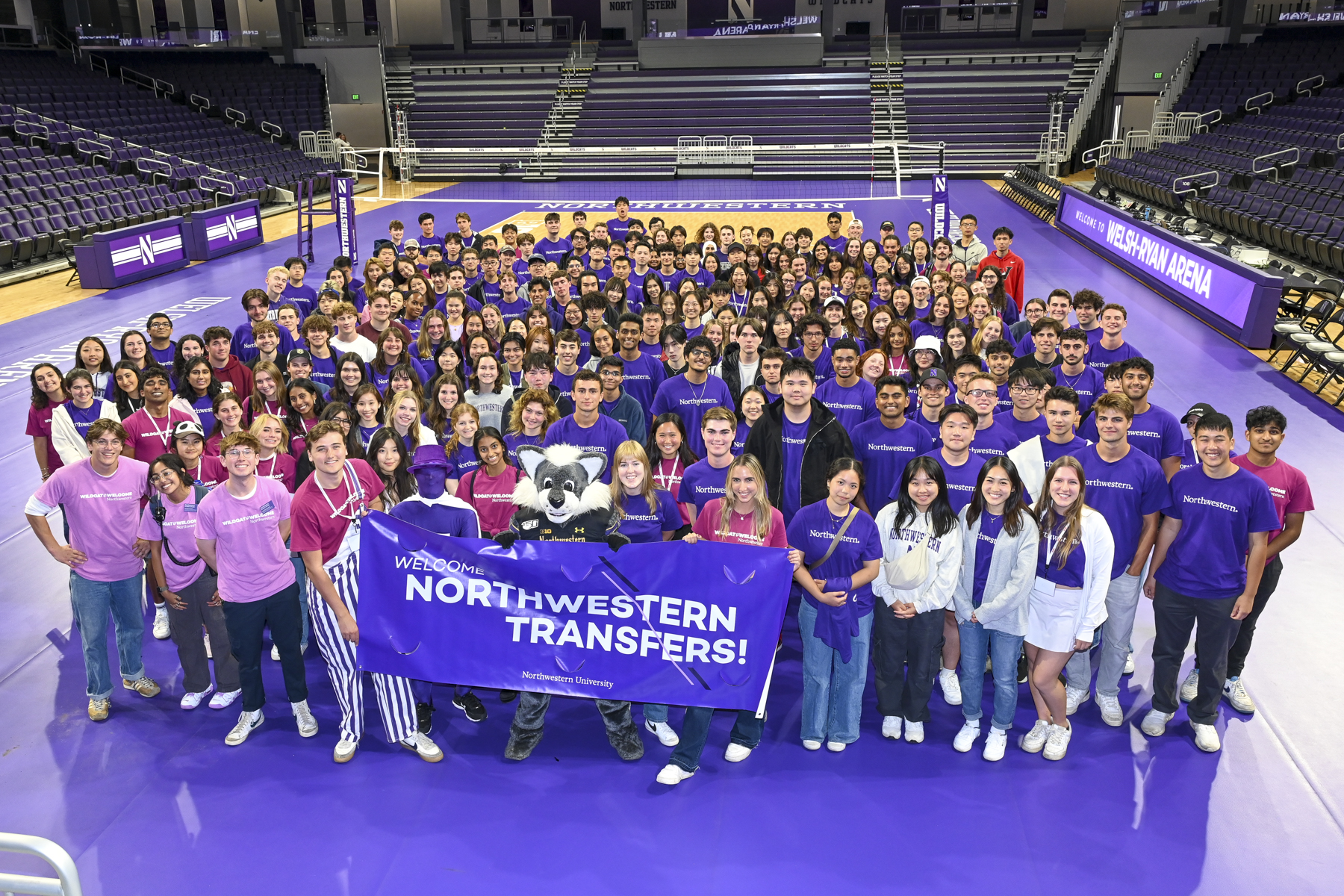 September 12, 2023
After learning the fight song and hearing from Northwestern coaches about some of the school's traditions at Tuesday's Purple Pride pep rally, Northwestern transfer student Jonas Goldberg knew he found a place with prestiguious academics and amazing school spirit.
"I'm excited to keep exploring campus and meeting more students," Goldberg said. "This week has been awesome. I just love the energy here."
Goldberg is one of more than 150 transfer students who are going through Wildcat Welcome this week. Transfer-specific programs build on the experiences students have had at their previous schools and group incoming students with a current Northwestern transfer student as a Peer Adviser.
Director of Transfer Student Experience and Northwestern senior Kyle Sullivan said an important part of Wildcat Welcome is creating unique programs that are tailored to transfer students.
"Coming into Northwestern, I didn't expect there to be much of a transfer community. I think part of that is because it's kind of a rare and uncommon thing at most schools," Sullivan said. "But when I got to Northwestern, I was surprised to learn that there are a lot of transfers here and even after Wildcat Welcome ended, I was still running into people and meeting new people in the community. It felt like something that mattered here."
Tuesday's pep rally included every new Northwestern student, as first-year and transfer students packed into Welsh-Ryan Arena for a program hosted by Northwestern student-athletes and coaches. The "Purple Pride" event is centered around the traditions that are part of cheering on the Wildcats at every game in Evanston
Following the pep rally, transfer students gathered on the Lakefill for one of the Wildcat Welcome events created exclusively for transfer students, a bonfire and a chance to connect in the middle of a busy orientation week.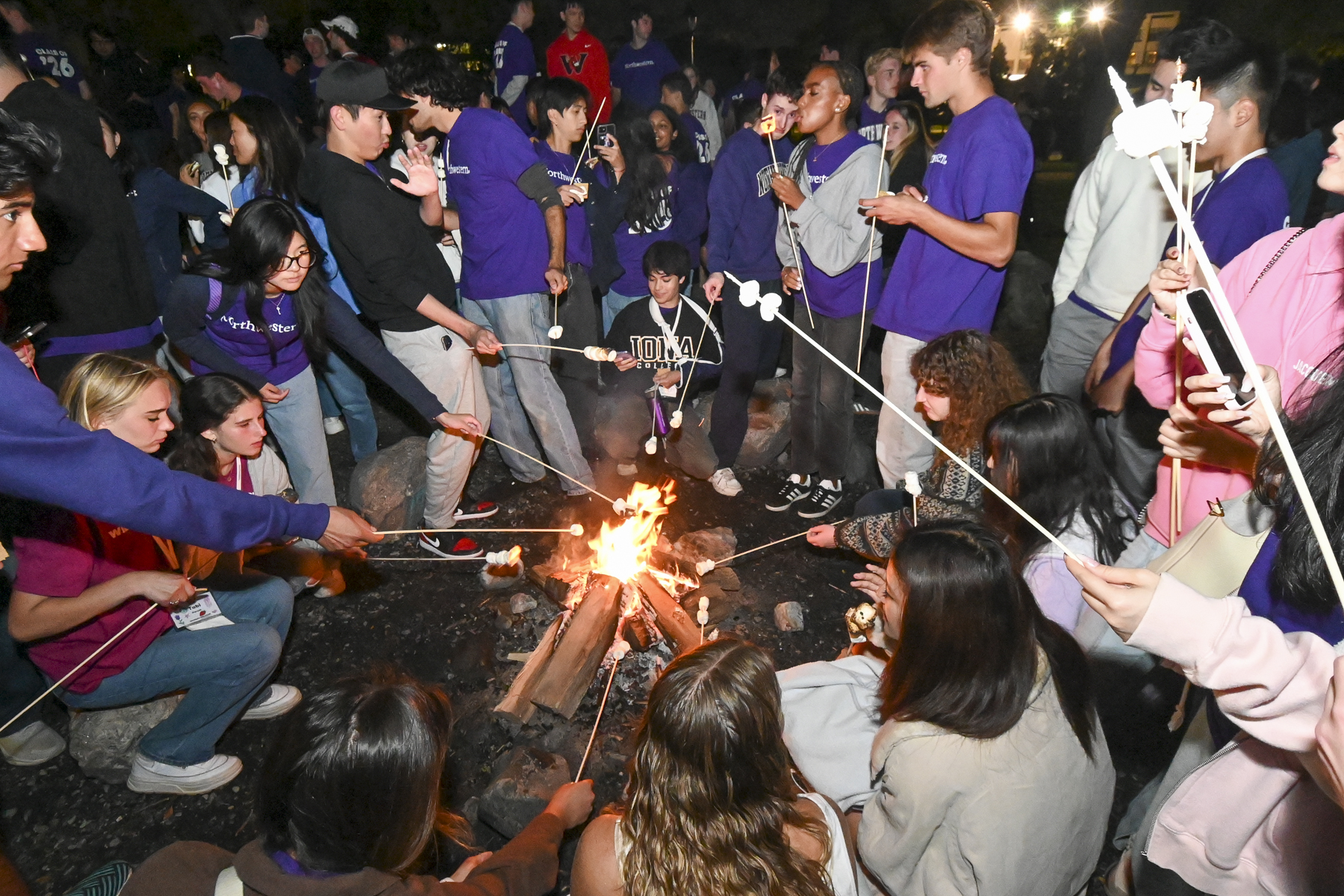 Hayeon Yun, a transfer student from South Korea, said the spaces created for transfer students were what she has enjoyed most about her Wildcat Welcome experience.
"I think learning about Northwestern together and the school spirit here has been the most unique part," she said.
It's exactly what Sullivan and the team at the office of Student Transition Experiences hope to build into Wildcat Welcome as transfer students get to know their new community at Northwestern.
"Transfers stories are diverse," he said. "But they're a humble group of people who come in and just want to enjoy their experience."
The Moment We've Been Waiting for: The Class Photo

September 12, 2023
Northwestern first-year and transfer students gathered on Hutcheson Field on Tuesday afternoon for another Wildcat Welcome tradition - the class photo on the lakefront. Wearing purple T-shirts, students enjoyed lunch by the lake before gathering with faculty and student volunteers to create the university's iconic purple N.
PA Group 1 Become the First Students to March Through the Arch

September 12, 2023
During Wildcat Welcome, Northwestern first-year and transfer students spend the week with a group of undergraduates and a peer adviser who help mentor them as their Northwestern journey begins. This group of students is called a Peer Adviser (PA) Group. 
Beginning the summer before they arrive in Evanston, each new member of the Northwestern community can turn to their PA Group for friendship, questions and support during their transition to life as a college student. 
One of the cornerstones of Wildcat Welcome is March Through the Arch, a tradition during which each new student marches through the Weber Arch, symbolically marking the beginning of their time at Northwestern.
When they graduate, these same students will retrace their steps as they participate in March Back Through the Arch during Senior Week.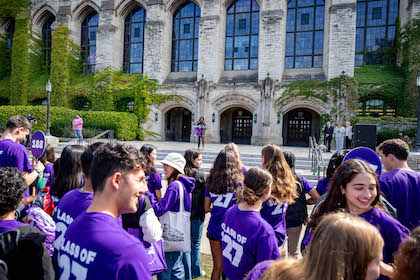 Assistant Vice President for Inclusion and Chief of Staff in Student Affairs Lesley-Ann Brown-Henderson addressed students as they gathered in Deering Meadow after the march on Tuesday morning. 
"You all are coming from different walks of life. For some, this is your first time on Northwestern's campus and for others, you grew up cheering on the Wildcats," Brown-Henderson said. "Here at Northwestern, we believe that in order to create inclusion we must recognize difference."
Brown's remarks were particulary resonant for a class that represents one of the most diverse groups of students to arrive at Northwestern.
The first members of the Class of 2027 to walk under the arch on Tuesday were PA Group One, which is made up of the following students from the Northwestern School of Education and Social Policy:
Tok Lin Yeo - Singapore
Serena Bentum-Siripi - Wadsworth, Illinois
Lyric Benford - Palos Hills, Illinois
Henry Wolfe - Baltimore Maryland
Giselle Lebron - Chicago, Illinois
Ambrose Chen - Hong Kong, China
Annie Fingersh - Prairie Village, Kansas
Henry Vrtis - Northfield, Minnesota
As these eight students enjoyed Lunch on the Lakefill, Student Affairs caught up with these eight students to learn a little more about them. In 2027, we'll regroup with them to look back upon their time at Northwestern. 
These interviews have been condensed and edited for clarity.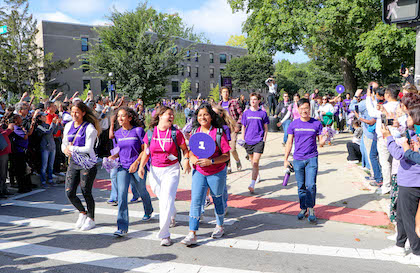 How would you describe your first 24 hours at Northwestern in one word?
Fingersh: Can I use you two words? Fun chaos.
Bentum-Siripi: Chill.
Yeo: Energertic.
Vrtis: Overwhelming but exciting.
What's something about your hometown you don't know unless you're from there?
Yeo: I think something many people don't know about Singapore is that we're a very multi-racial community. Our official language is Malay, but we all speak English. We also have a service requirement, so I was in the military for two years before I came to Northwestern.
Wolfe: The way Baltimore is designed you can walk two blocks and the city will feel completely different. Also, the aquarium is the best in the country. 
Chen: There's this form of public transportation in Hong Kong called the mini-bus. It's basically a form of public transportation that drives you around the city, and the drivers are super rude and curse every time they see somebody crossing the road.
Vrtis: We have this festival every year called "Defeat of Jesse James Days" that commemorates the defeat of the James-Younger gang, which was a gang that robbed banks that the town of Northfield defeated in 1876. I could give a whole history lesson right now, but they were a gang from the South that was becoming so recognized that they came up to Minnesota and started robbing banks.
When you're a senior graduating from Northwestern, what's something about yourself that you hope hasn't changed?
Benford: An excitement for the future. Right now, I'm very open to meeting new people and I'm excited about what I'm going to study. I'm still unsure about a lot of things, but I'm hoping I can carry that spirit of excitement and openness with me through graduation.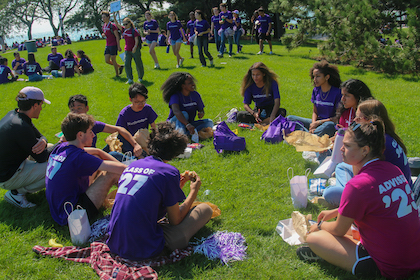 Lebron: I want to take advantage of all the groups Northwestern has that can offer support. I know it can be hard to find that motivation sometimes, but I want to make sure that I persevere.
Bentum-Siripi: I want to maintain and keep expanding my social skills. Just being open and kind, always.
Chen: My sleep schedule. Right now, I don't have any classes, and I have a really good sleep schedule, but I'm not sure that still stay the same after four years.
Fingersh: I would love to join a lot of clubs and figure out what I'm passionate about. Not really sure at the moment but I want to explore everything Northwestern has to offer.
What's your most-listened to song on Spotify right now?
Wolfe: "Topanga" by Trippie Redd. I feel like I don't even listen to it that much, but it's a song I don't skip when it comes on.
Vrtis: It's definitely something by Taylor Swift.
Yeo: "XO Tour Llif3" by Lil Uzi Vert.
Chen: There's a jazz fusion band called Casiopea that I really like.
Bentum-Siripi: "All The Way Live" by Future, Metro Boomin and Lil Uzi Vert. It's from the new Spider-Man movie.
Lebron: "Peace of Mind" by Lauryn Hill.
Benford: "Hours in Silence" by Drake and 21 Savage.
Fingersh: Obviously, it's something from Taylor Swift - "Evermore."
View more highlights from March Through the Arch Below.


First-Years & Transfers Explore Campus at First Night


September 11, 2023
Northwestern first-year and transfer students wrapped up day one in Evanston with First Night, a campus tradition that brings carnival games, food trucks, roller blading and a silent disco  to Northwestern after students move into their campus residences. Rainy weather couldn't slow down the newest Wildcats as they trekked across campus to explore everything First Night had to offer. 
Welcome Home! Wildcat Welcome Begins with Move-In
September 11, 2023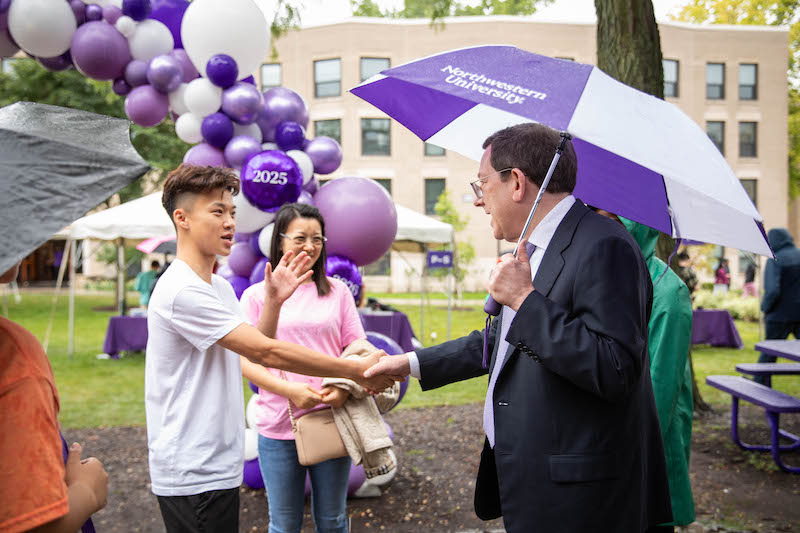 With Taylor Swift's "Hits Different" pumping through the speakers at the registration table, Northwestern's Class of 2027 and transfer students begin a new era on the Evanston campus this week.
Northwestern first-year student Ivan Vergara was lined up with his parents outside Sargent Hall as he prepared to make the move from Bethesda, Maryland to his new campus residence.
Vergara said he was excited to take advantage of everything Northwestern had to offer.
"I'm looking forward to meeting some really motivated people," he said. "Today has been less stressful than I expected and everyone at Move-in really helped a lot."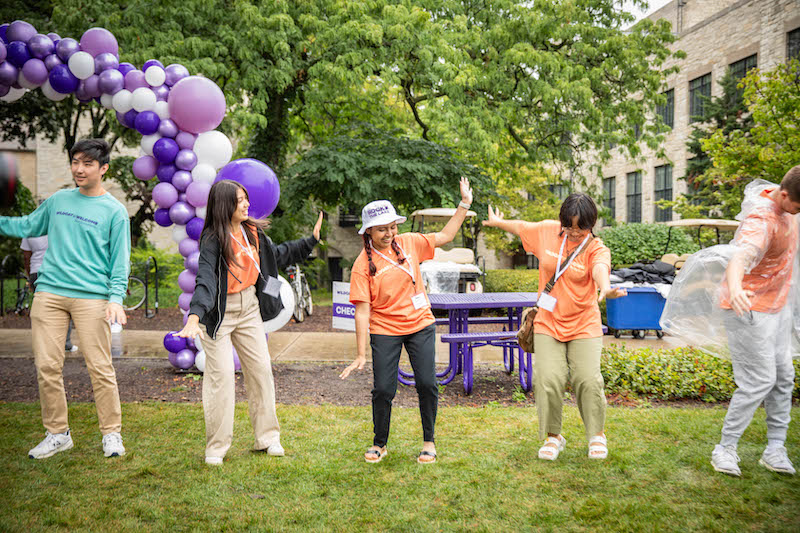 Northwestern Peer Advisors are on hand to help first-year students and transfers throughout every step of Wildcat Welcome.
Helena Ramos said joining the PA community and helping guide students through their first steps at Northwestern helped her further develop a sense of community in Evanston.
"When you come here, you might feel a little lost at first, but trust the process," Ramos said. "Take some time to say a meaningful goodbye to your family members because you won't have that chance again, and just trust that everyone is here is help make this a positive experience."
PA Nora Bouftas urged students to go easy on themselves as they navigate Wildcat Welcome. 
"You might not find your community that first week but just try and meet as many new people as you can," she said.