Sexual Assault Awareness Month
Sexual Assault Awareness Month
Northwestern will join universities across the country in acknowledging Sexual Assault Awareness Month 2023 (SAAM) with a range of programming on campus in April. 
 
The national theme for SAAM 2023 is "Drawing Connections: Prevention Demands Equity," a campaign that looks to show how increased understanding and acceptance of interpersonal identity will continue to build racial equity. 
"Sexual Assault Awareness Month provides students, faculty, and staff with the opportunity to deeply engage in educational and somatic programming related to supporting folks impacted by sexual violence both within their interpersonal and Northwestern communities," said Kamaria Excell, assistant director of outreach, CARE. "The goal of April is to foster healing, creativity, and systematic change related to envisioning a world without violence."

You can find a complete list of events hosted by CARE and NSVRC below: 
SAAM Tabling 
Tuesday, April 4 
Noon-3:00 p.m. 
  
Help us jump start our April programming with a tabling centered around comprehensive education and resources on sexual violence, healthy relationships and experience of marginalized survivors. 
  
SAAM will have a table inside the Nook Space at University Library from Noon to 3 p.m. on Tuesday afternoon. 
Art & Survivorship
Tuesday, April 11  
12:30-2:00 p.m. 
  
This 90-minute, lunch & learn art workshop provides a supportive, anti-victim blaming space for survivors & allies of sexual violence to explore the use of art therapy in their healing. Beth Enterkin, MAAT, LCPC is a skilled therapist with a focus on trauma, supporting people who have experienced abusive relationships, sexual violence, or other traumatic events.  
 
This event will be hosted at the Northwestern Women's Center at 2000 Sheridan Road in Evanston.  
Reclaiming Intimacy
Tuesday, April 18 
Tuesday, April 25 
Tuesday, May 2  
6:00-7:30 p.m. 
  
Join CARE's Assistant Director of Sexual Violence Response Services Katelyn Kennon and a small cohort in a series of three confidential, experiential, evening workshops covering topics such as sexual values, boundaries, embodied consent, partner communication, exploring pleasure, and staying present during sex. 
  
Student-survivors of all identities, orientations, and relationship statuses are welcome. 
Testing Party 
Friday, April 21 
12:00 PM-3:30 p.m. 
  
Come party with a purpose! A major part of our holistic wellness is ensuring that we know our sexual health status and have the community to support us in our wellness journey. Join us for a shame free afternoon of free STD & HIV testing, sexual health consults, resources, music, food, & fun. 
Truth and Repair: A Moderated Conversation with Judith Herman
Friday, April 29  
All Day 

Join CARE in conversation with Dr. Judith Herman as we celebrate the release of her new book, Truth and Repair: How Trauma Survivors Envision. Dr. Judith Herman is the Director of Training at the Victims of Violence Program at Cambridge Hospital and is also a clinical professor of psychiatry at Harvard Medical School. Her research areas include: the psychology of women, child abuse, domestic violence, and post-traumatic disorders.
Full Schedule for SAAM 2023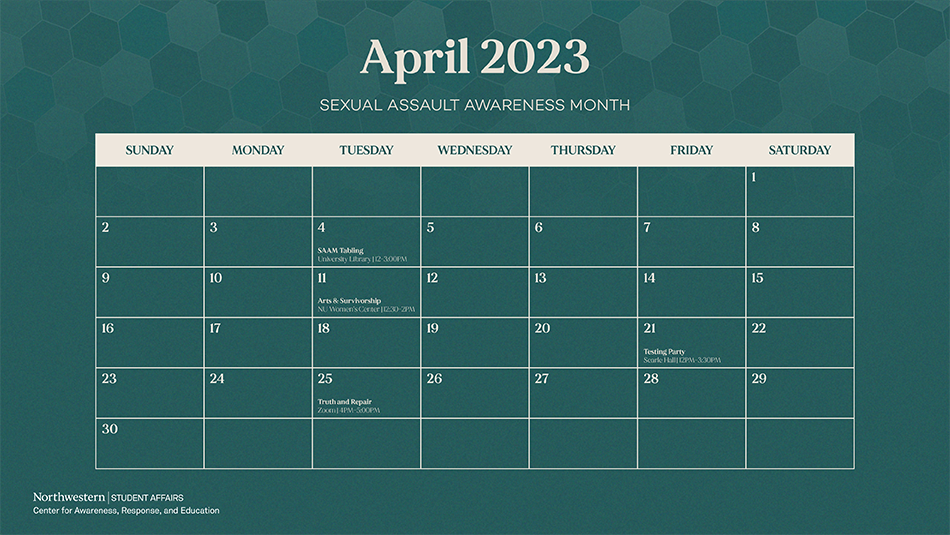 Click here for more information on Sexual Assault Awareness Month.