Wildcat Welcome 2022
Wildcat Welcome introduces Northwestern first-year and transfer students to campus traditions, highlights what it means to be a community member and includes time to socialize with other new students during a week of programming.
"Incoming students have spent months scouring websites, Reddit threads and social media as they attempted to determine what their Northwestern journey would entail," said Josh McKenzie, director of Student Transition Experiences and assistant dean of students. "Our role over the next week is to help turn this place of seemingly beautiful photos and buildings into a place of caring people and a network of resources that will help them take their next steps. After all, no one is meant to transition through Northwestern alone."
Thousands of new students will officially become members of the Northwestern community this week. These are some of their stories.
Jump to:
Rock the Lake

Ends

Wildcat

Welcome

in

Style

 
September 18, 2022

A cappella renditions of Katy Perry's "Hot N Cold" and NYSNC's "It's Gonna Be Me" echoed across the Starbucks in Norris University Center. Music blasted from the McCormick Auditorium as dance groups filled the stage. And the sound of jazz music carried over games of corn hole in the Louis Room.  
No event at Northwestern sounds quite like Rock the Lake.  
As the showcase event brought Wildcat Welcome to a close on Sunday night, dozens of student groups came together for their first performances of the year and introduced themselves to Northwestern first-years and transfers. 
Denise Kao of the Graffiti Dancers said the event was a chance to reconnect with other members of her dance ensemble after returning from summer break. 
"It's been really cool just seeing everyone and practicing again," she said. "It's about showing the freshmen what kind of dance we do and seeing if they want to audition. It's also one last get-together to show off our dance moves from last year." 
Northwestern President Michael Schill stopped by the event to mingle with students and enjoy the performances at Norris. 
Though the event was moved inside due to inclement weather in Evanston, it didn't stop each group from delivering show-stopping performances to kick off the 2022-2023 academic year. 
"Rock the Lake was an incredible opportunity for the jazz band, dance organizations, and a cappella groups to showcase their talent and welcome the first-year and transfer students to the NU community," said Hayley Kretchmer, assistant director of Student Organizations & Activities. "In addition to the student performances in Norris Center, there were life-size games, a photo booth, free giveaways and four food trucks for attendees to enjoy." 
Norris at Night Introduces

First-Years & Transfers to Student Center

 
September 16, 2022
The Norris University Center turns 50 this year, but the heart of student life on Northwestern's Evanston campus didn't pass up the chance to make a first impression on Friday night. 
The student center hosted Norris at Night, as a fun-filled event that introduced everything Norris has to offer to first-year and transfer students at Northwestern.  
As music from DJ Corey Bless blasted throughout the building, some of the newest Wildcats could sample the dining options at Norris, and explore the art galleries and resource centers that make Norris such an invaluable part of campus life. 
The party spilled outside, where a Norris at Night logo was projected onto the façade of the building as students roasted s'mores. Inside, a quiz show entertained students looking to break a mental sweat before classes begin in Evanston on Tuesday. 
Class Photo and President's Welcome Highlight Wildcat Welcome
 Day 2


Drone photo courtesy of Northwestern IT

September 13, 2022
On his second day as President of Northwestern University, Michael Schill spoke about bringing people together.
"We are a diverse community," Schill said. "Every one of you belongs here and every one of you has an important role to play in strengthening Northwestern University." 
Standing on the steps of Deering Library, Schill addressed the Class of 2026 and transfer students after the conclusion of March Thru the Arch. His remarks were followed by Northwestern's annual Kiss 'n Bye, as students bid farewell to their families on Deering Meadow. 
"I hope you will allow yourself to feel a deep and abiding gratitude for your friends, family and other loved ones who helped put you on the path that brought you to Northwestern University," Schill said. 
 After enjoying lunch on the lakefill, Northwestern first-year and transfer students gathered on Hutcheson Field for a class photo. Joined by student volunteers, the newest members of the Northwestern community formed the shape of the school's iconic purple N. 
The results were spectacular. 
To download the class photo and view other highlights from Wildcat Welcome, visit our Wildcat Welcome 2022 Photo Gallery.
Meet the First Northwestern Students to March Through the Arch in 2022 
September 13, 2022 
During Wildcat Welcome, Northwestern first-year and transfer students spend the week with a group of undergraduates and a peer adviser who help mentor them as their Northwestern journey begins. This group of students is called a Peer Adviser (PA) Group. 
Beginning the summer before they arrive in Evanston, each new member of the Northwestern community can turn to their PA Group for friendship, questions and support during their transition to life as a college student. 
One of the cornerstones of Wildcat Welcome is March Through the Arch, a tradition during which each new student marches through the Weber Arch, symbolically marking the beginning of their time at Northwestern. With their PAs leading the way - and their families, Northwestern faculty and staff, and fellow students cheering them on - 2,045 first years and 230 transfer students will walk the same path as the thousands of Wildcats who came before them. 
When they graduate, these same students will retrace their steps as they participate in March Back Through the Arch during Senior Week. 
The first members of the Class of 2026 to walk under the arch on Tuesday were PA Group One – a group of theater majors from the Northwestern School of Communication:
Madelyn Cantzler - Chicago, Illinois 
Sidney Cotto - Houston, Texas 
Devin Eichel - Long Island, New York 
Nastia Goddard - Newport, Rhode Island 
Selina Liu - Toronto, Ontario, Canada 
Emma Nelsen - Arlington, Virginia 
Maggie Munday Odom - High Point, North Carolina 
Kiki Sikora - Oak Park, Illinois 
"The energy and immediate inclusivity of this group has created such a warm and welcoming community," said Alexa Goldstein, PA Group One's peer advisor. "Each person brings something different to the table, which has created nuanced and kind conversations. I feel so lucky to be a part of their first year at Northwestern, and I am very excited to see all the amazing things they will do here just by being themselves."
Just minutes after passing through the Weber Arch, Student Affairs caught up with these eight students to learn a little more about them. In 2026, we'll regroup with these Wildcats to hear about how their Northwestern experience unfolded. 
These interviews have been condensed and edited for clarity. 
What are some of your initial impressions of Northwestern? 
Goddard: It definitely already feels like home. I switched schools a lot, so I'm used to moving, but this has been so smooth. I feel like everyone is ready to make friends so that's been a really refreshing atmosphere. 
Nelsen: One thing I've really enjoyed about the transition is that it's kind of hectic, but they're always giving you things to do. So you're not left to your own devices and just wandering around without knowing who to socialize with. There's always an activity and a schedule to get you doing things. 
Liu: One thing I've really liked about these couple of days is how quickly I've met so many like-minded people. We're all theater majors and we're all interested in similar things, which is something I've never had before. I went to a really small school, and it was hard to find people that care. I'm just so happy I found all of you all so soon. 
Cotto: It's kind of a sigh of relief because you've built up those questions of 'Am I going to make friends? 'or 'Am I going to find my people?' Then you get here, and you meet the exact kind of people you pictured that you were going to meet. It's definitely not as nerve-wracking as you might have expected. 
Odom: This is one of the first places in my life where I've felt like everyone has the same level of enthusiasm for everything that they're doing as I do. The PAs were all dancing on the first day we came, and everyone just has these passions, and it really lights me up. It inspires me. 
What's one thing you want to do during your time here at Northwestern? 
Nelsen: One thing I want to do, it's not very specific but it's more of a feeling. I want to do something that's a little bit scary just to push myself and not let myself get too comfortable. 
Cantzler: I want to feel more confident in who I am and be able to show that to other people. 
Liu: I want to do something, whether it's a show or a song, that when I do it, it's not about whether other people like it but because I like it. 
Sikora: I want to be a part of a group that pushes me and that I'm constantly challenged by. 
Goddard: I want to be Willie the Wildcat. I want to put on that mascot costume and run around campus. I'm going to be Willie the Wildcat at some point. But also push myself! 
Eichel: I want to discover something new about myself, whether it's on a personal level or with a new major or minor that I never thought would be on the radar for me. 
Odom: I want to have a moment at some point over the next four years where I look around and I'm like, 'These are my people.' I moved a lot growing up, and I didn't really have a strong friend group that sustained me, so I'm excited for that to be a part of my life. 
What's one thing about your hometown that nobody knows unless you grew up there? 
Sikora (Oak Park, Illinois): I'm from the place where Frank Lloyd Wright resided and where his home and studio are. Everyone says he's from Chicago, including some very high-profile museums, but he's from Oak Park. 
Liu (Toronto, Canada): We have a lot of celebrities. The most notable are Drake, Justin Bieber and Shawn Mendes. But putting pineapples on pizza was also invented in Canada. 
Eichel (Long Island, New York): I'm from a square-mile town on Long Island and I don't believe he was born there, but Billy Joel has a summer house on Long Island, so we go hard for Billy Joel. We show up and show out for Billy Joel when he performs at Madison Square Garden just to hear him shout out Oyster Bay, Long Island in The Ballad of Billy the Kid. That's my favorite song. 
Cotto (Houston, Texas): Whenever it's homecoming, people wear these big ribbons that are the size of your entire body. The girls give one to the guy who asked them out for homecoming and then the guys give you these big things that you wear around your neck. It has lights on it, and it has your school colors and goes down to the floor. It has bells on it.  I didn't realize that was a Texas thing until I came here. 
What's the last movie you watched from start to finish? 
Nelsen: Mine is "Eternals," which is a Marvel movie. I've been going through those recently. It's a commitment, but I'm doing it. 
Eichel: Mine was "Hercules." That was like my "goodbye, home" movie. I don't know why I was just like I really need to watch Hercules right now and it was really good. I watched it alone in the middle of the night and my dog was sitting in my lap. 
Liu: I relate to that because mine was "Turning Red" because it's based in Toronto. 
Sikora: Mine was "Megamind." One of my coworkers was like, 'I need to watch Megamind,' and we had this long break. It's the best movie I've ever watched.  
Goddard: Mine was also "Megamind." 
Cotto: Mine was a very stupid scary movie called "Fall," where they get stuck at the very top of this tower and then…they fall! Who would have thought? 
Cantzler: Mine was "Finding Dory" because I've got a little two-year-old brother, and he goes hard for anything Nemo. We watch it like eight times a day. 
First Night Northwestern Returns as Wildcat Welcome's Newest Tradition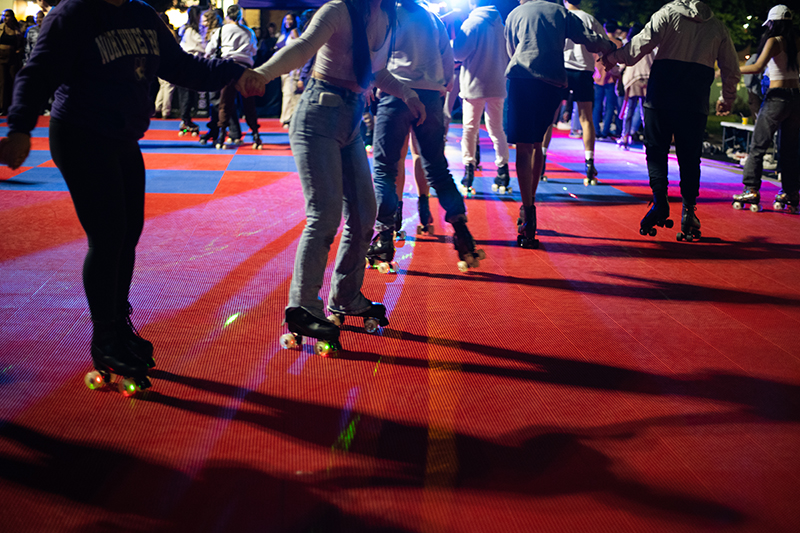 September 12, 2022
From glow-in-the-dark mini-golf to a roller rink outside the residence halls, First Night Northwestern returned for the second time in 2022 as an opportunity for first-year and transfer students to celebrate their first evening on campus. 
Hosted by Residential Services, First Night included activities at six distinct campus locations: North Lawn, Schapiro Hall, the Bobb Basketball Courts, Foster-Walker Lawn and Basketball Courts, the Rogers House Quad and Shepard Berm.
"We intentionally create a safe and exciting environment that helps our new students as they transition to Northwestern," said Carlos M. Gonzalez, executive director of Residential Services. "It's all about creating a space where students can start to build connections."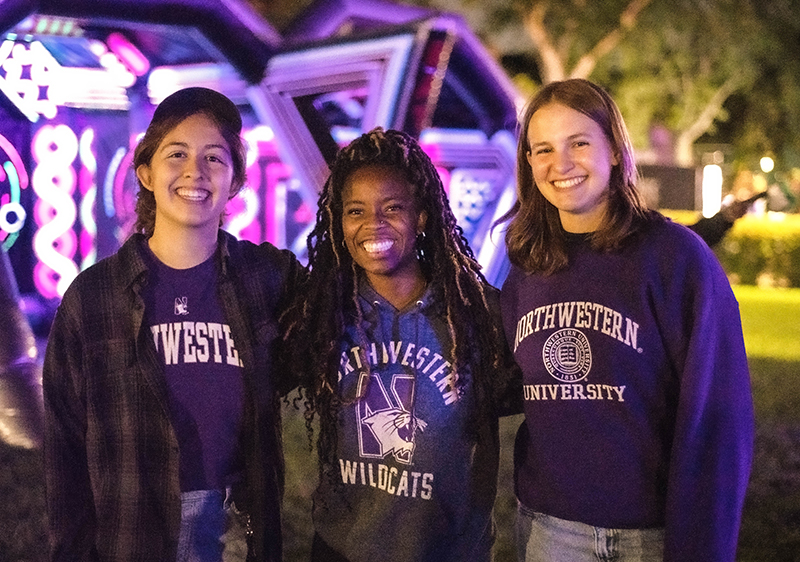 First-year students Natalie Wells, Elizabeth Ferrazza and Satarie Bennett began First Night on the Foster-Walker lawn, where activities included axe throwing and an outdoor dance floor. 

"It's really nice to establish connections with people almost immediately, instead of connecting a name to a face online," Wells said. "I think it's really powerful to build that face-to-face connection from the get-go." 
Ferrazza said that First Night offered her a taste of independence as a college student.  
"You're in a safe environment, but you're also making your own choices and doing your own activities," she said.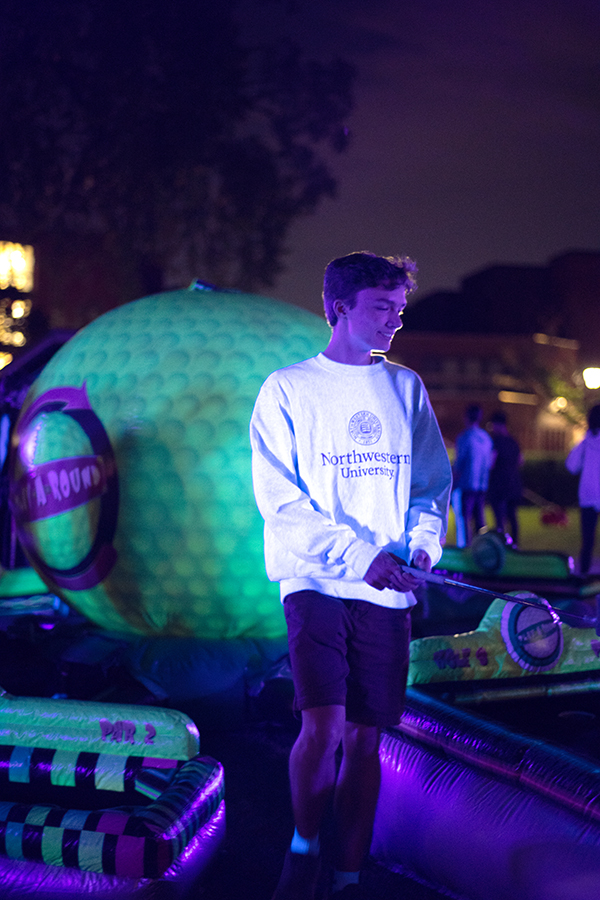 Students could spend First Night exploring campus, checking out a 360-degree photo booth and trivia competition inside Schapiro Hall, a roller rink on the Bobb basketball courts and collecting a variety of personalized swag items in between other activities. 
Food trucks from Kona Ice, Cheesie's, Soul & Smoke, Frio Gelato and Joe + Dough gave students a taste of Evanston and Chicago staples.
Andrew Guo returned to First Night as a peer advisor, after experiencing the first iteration of the event last year when he was a new student. His favorite part of First Night was rollerblading outside of Bobb and a chance to enjoy campus life with "no responsibilities." 
Bennett said that after her high school experience was disrupted by the COVID-19 pandemic, First Night was an opportunity to begin her college experience by gathering with her new classmates for the first time. 
"Seeing people in person has been really nice," she said. "There's some immediate bonding that you get from seeing people's facial expressions without a mask." 
Move-in kicks off Wildcat Welcome in Evanston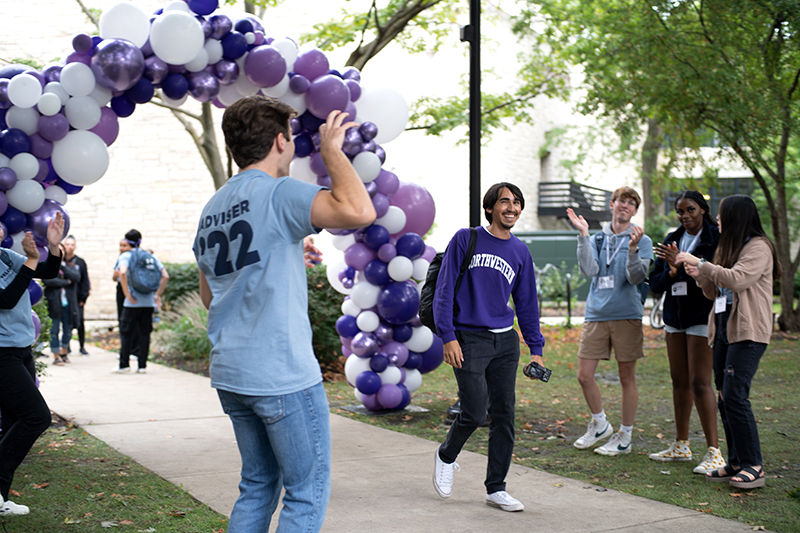 September 12, 2022
Schapiro Hall didn't exist when Eric Letsinger graduated from Northwestern University in 1990, but as he helped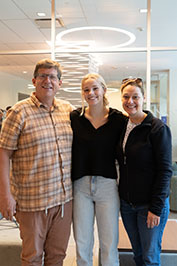 move his daughter Fiona into her North Campus residence hall, the Chevy Chase, Maryland native found a familiar energy on campus. 
Peer advisors and residential assistants in brightly colored t-shirts greeted Northwestern first-years and transfers on Monday morning as Move-in officially kicked off Wildcat Welcome. 
"Our goal for move-in day was to reduce stress for families and students, while delivering a smooth and great experience for students' first day on campus," said Carlos M. Gonzalez, executive director of Residential Services. 
For the Letsinger family, their journey to Northwestern began with a Honda CR-V packed with college necessities and a 12-hour drive from Washington, D.C. 
Fiona, a mechanical engineering major, said she was ready to meet new classmates at Wildcat Welcome. 
"I don't know a lot of people coming in, so I'm excited to meet people in my dorm, people in McCormick and people on campus," she said.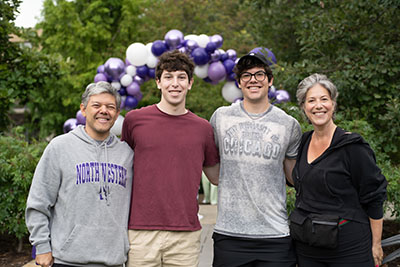 The Huberman-Shlaes family arrived from just down the road in Chicago's Gold Coast neighborhood to help their son Gabi move into Schapiro Hall. 
"It was a very smooth process," he said. "I wasn't expecting all these students to help me out. I was ready to start lugging things up myself." 
While he has already met some other Northwestern students from Chicago, Huberman-Shlaes said he is excited to continue getting to know the Class of 2026.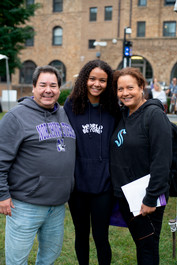 It's a group that includes students from all over the country, like Kaya Payton from Riverhead, New York – a town on Long Island just a half-hour drive from more than 50 wineries – who moved into Bobb Hall on Monday.  
She was confident her parents would cry at some point during Wildcat Welcome, since her father, the principal of her high school, shed a tear when he handed Payton her diploma at graduation. 
Brooke Walker, an Atlanta, Georgia native, was excited about taking advantage of all the ways to get around Chicagoland.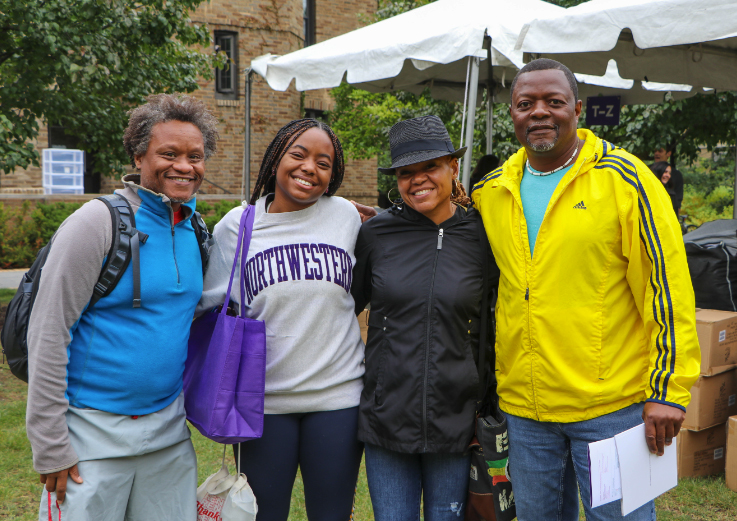 "One thing that's really different about Atlanta is that it's centered on driving," she said. "I'm going to appreciate all the transportation options in Evanston and Chicago.
As the thrum of first-year students and transfers finding their residence halls and meeting roommates and classmates swirled around them, the Letsinger family took a moment to relax on the first floor of Schapiro Hall. 
Eric and Nancy Letsinger reminisced on Eric's time as a student, delivering newspapers for The Daily Northwestern and late-night meals at his favorite chicken wing restaurant, Buffalo Joe's, still serving up Northwestern students in downtown Evanston. 
Then, it was off to grab another box and help Fiona prepare to make her own memories as a Wildcat.