Fright Night at Norris University Center
Northwestern student groups team up to host Night at the Haunted Museum


 The Louis Room was transformed into a haunted museum on Friday night, with sets, costumes and makeup designed by Northwestern students. (Photos by Ethan Gomberg and George Pfoertner)

"Has anyone seen the torture device?"
There was plenty of head-turning conversation around Norris University Center this week — but it was no horror film.
Students from the Theme Park Engineering & Design Group (TPED) and NU Nights came together on Friday night to host Night at the Haunted Museum, a one-of-a-kind collaboration between the two registered student organizations (RSO).
With the Louis Room draped in black, students dressed as scare actors appeared behind sets designed by TPED to appear as the hallways of a haunted museum. A fog machine and pre-recorded audio elements added to the immersive experience that delivered a fright to students who walked through the event on Friday night.
Scare actors painted as statues were among the first to appear, following students through the event. Behind the scenes, makeup artists helped create some of the most memorable effects of the evening, as completely unrecognizable actors jumped out behind different sets.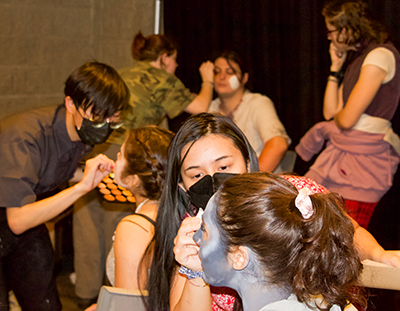 This is our first time doing a haunted house," said Jasmin Ali-Diaz, TPED internal co-president. "Before this week, it's all been pretty amorphous, just drawings and sketches, but when we got the curtains up on Tuesday, I was freaking out in a good way.
An RSO now in its second year, TPED serves students interested in working in the theme park industry, by creating a space to collaborate with other students in Northwestern's McCormick School of Engineering and support their professional development.
NU Nights hosts substance- and barrier-free nighttime programming for students. If you ask NU Nights President Chibueze Onyenemezu, the group found a perfect way to bring that mission to Halloween.
We've never had a haunted house on campus before," Onyenemezu said. "[TPED] took care of all the details, and we helped promote and support them — it's been great working together.
For an Orlando native like Ali-Diaz who grew up going to theme parks, the haunted house was an opportunity to deliver that same experience to the campus community.
She said the project was something TPED had envisioned ever since the group returned to in-person programming after the height of the COVID-19 pandemic.
The group put together one of its first large-scale events during Dillo Day in the spring, a multi-sensory space complete with pillows and phone chargers inside a quiet tent with soft lighting for students feeling overwhelmed by the music festival experience.
The same commitment to inclusion was built into the haunted house.
Themed entertainment should be for everyone," Ali-Diaz said. "It shouldn't exclude anyone because of mobility.
The haunted house included wide hallways that were accessible for any student with a mobility device. TPED staff instructed any student who needed to exit the event to put both hands on their head, letting the scare actors know to direct them to clearly marked exits.
Both TPED and NU Nights are supported in their work by the office of Student Organizations & Activities, a Student Affairs department that advises, trains and facilitates programming for more than 400 Northwestern RSOs.
"It's terrific to see our RSOs build relationships with other communities on campus through collaborative event planning," said Joseph Lattal, associate director of Student Organizations & Activities. "We value the learning students experience as a part of these organizations, and learning through collaboration is a valuable skill that can be applied beyond their experience as students."

"Plus, it's always inspiring to see organizations who want to build community in this way," he added.