Student Leaders
What is a Family Ambassador?
Family Ambassadors (FAs) are a community of student volunteers dedicated to supporting families throughout their Northwestern experience. This is an excellent leadership opportunity and a great way for students to find community on campus.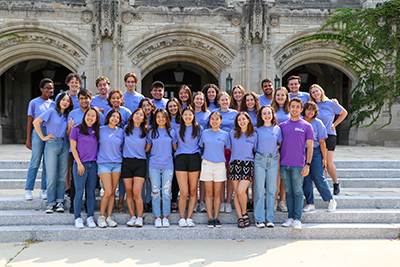 Family Ambassador Responsibilities Include:
Assisting with all aspects of Parent and Family Orientation which includes parent and family check in, hosting various sessions, participating in the "Day in the Life of a Northwestern Student" skits, giving campus tours and mingling with families and guiding them to various events around campus. 
Assisting with various aspects of Wildcat Welcome which includes new student move-in day, March through the Arch, and assisting with other initiatives that arise throughout the program. 
Assisting with all aspects of Family Weekend which takes place in October or November (date will be announced in March). This includes checking in family members, hosting sessions, directing family members to events, giving campus tours and mingling with family members throughout the weekend.
Periodically participating in the Wildcat Family Webinar Series during the summer and throughout the academic year.
Learning about campus resources related to the parent and family experience.
Offering a student perspective to parents and families.
Interacting with parents and family members on campus by answering their questions and helping to meet their needs.
Ensuring the overall success of family programming and events.
Family Ambassadors represent the diverse Northwestern community. We are looking for freshmen, sophomores, and juniors with varying levels of NU involvement, and a wide range of personalities and backgrounds.
Please make sure you read the Important Dates for FA Applicants to fully ensure you understand the requirements prior to applying.
Characteristics Found in Successful Family Ambassadors:
Flexibility
Organizational skills
Enthusiasm
Professionalism
Responsible & Accountable
Engaged
Empathetic
Positive Attitude
Hardworking
Relatability to others - and would relate well to parents and family members
Willingness to share about your family and their experience when you transitioned to Northwestern
Desire to speak about your Northwestern experience and share a student perspective
Desire to serve as a resource for nervous and overwhelmed families
Open-minded towards cultures, ethnicities, lifestyles, and backgrounds
A willingness to learn and grow
Application
The 2023 Family Ambassador application is now closed. Please e-mail family@northwestern.edu if you have any questions.
Interviews
If you have been invited for an in-person interview, you will be asked to select your interview date and time by 11:59 pm on Thursday, Feb. 23. The 20-minute interviews will take place the following days, times, and locations:
Friday, February 24

 

between 2:00 pm – 5:00 pm (204 Scholars Room, Norris University Center)
Saturday, February 25

 

between 10:00 am – 5:30 pm (103 Chicago Room, Norris University Center)
Sunday, February 26

 

between 2:00 pm – 7:00 pm (103 Chicago Room, Norris University Center)
Friday, March 3

 

between 2:00 pm – 6:00 pm (600 Haven Street, Suite J100 – Office of Student Transition Experiences)
Those who interview will receive an e-mail by the evening of Thursday, March 9 to let them know if they received the FA position.
FA Spring Training | April 10–June 2
To cultivate the FA community and prepare FAs for their role, in-person training will take place for two hours every other week from April 10 – June 2. FAs are required to attend all trainings which will take place in the evenings during the week. Applicants will be asked to fill out a form regarding their spring schedule, which will help determine the date and time for spring training. The FA application and interview process is not complete until this form is submitted.

FA training dates will be announced by Friday, March 17. If you will have a conflict with any of the training dates throughout the quarter, you must notify the Family Engagement team at least one week in advance and you will be required to make up the training session.
Fall FA Camp | September 7-10
Fall FA Camp (training) is tentatively scheduled to begin on Thursday, September 7 and end on Sunday, September 10, 2023. FAs can move into the residence halls and residential colleges starting Wednesday, September 6 with FA Camp starting on Thursday, September 8 at 5:00 pm CST.  

If you are a member of a fraternity/sorority planning to live in the house for the fall 2023 or are planning to live off-campus, it is your responsibility to secure early move-in approval from your house or landlord as soon as possible.  If you are not able to move in early, it is your responsibility to find alternate early move-in housing. In the past, FAs have worked out arrangements with other friends or FAs if they needed a place to stay. Family Engagement will not be able to provide early housing for any FA not living in a residence hall or residential college.

Each day, training will take place from about 9 am – 9 pm with some breaks so no other plans should be made during this time (i.e. you cannot take part in other events, activities, or work any jobs during this timeframe).
Parent & Family Orientation + Wildcat Welcome
Parent and Family Orientation will take place Monday, September 11 - Tuesday, September 12.
Wildcat Welcome will take place Monday, September 11 - Monday, September 18. 
Classes begin Tuesday, September 19.
FAs are expected to be on-campus and remain available during the above timeframe to fulfill all responsibilities associated with Parent and Family Orientation and Wildcat Welcome. Please note that Parent and Family Orientation and Wildcat Welcome are planned to occur in-person for September 2023, though format and dates are subject to change based on health and safety guidelines.
Family Weekend 
Family Weekend 2023 will take place all day Friday to Sunday afternoon in October or early November. FAs will be expected to participate in a Family Weekend training session prior to the start of the program and should plan to be busy the entire weekend. The date of Family Weekend will be announced by March. If your family plans to attend Family Weekend, you will still be expected to fulfill your FA duties however, some schedule accommodations can be made if necessary.
Position Description
Family Coordinators (FamCo) are hard-working and dedicated student leaders who have previously served at least one year as a Family Ambassador. These individuals:
serve as the student coordinators of the Family Ambassador program
work with the Senior Program Coordinator to design, implement, and facilitate training for Family Ambassadors
supervise and hold Family Ambassadors accountable for their responsibilities
help to coordinate and execute Parent and Family Orientation and Family Weekend
assist with webinars
provide general administrative support for Family Engagement when appropriate
 Family Coordinators are selected in January and serve in their position until the following January.
2023 Family Coordinators
Monica Williams (she/her)

 

is a junior from Indianapolis, Indiana majoring in Neuroscience with a minor in Psychology in the Weinberg College of Arts and Sciences. In addition to FamCo, Monica serves on the executive board for Seesaw Theatre, volunteers at the Evanston Animal Shelter, and works in a research lab in the Feinberg School of Medicine.
Alex Cervantes (he/him)

 

is a junior from Charlotte, North Carolina majoring in Journalism in the Medill School of Journalism and minoring in Political Science in Weinberg College of Arts and Sciences.

 

In addition to FamCo, Alex serves as a Senior Staffer for The Daily Northwestern and volunteers as a youth soccer coach.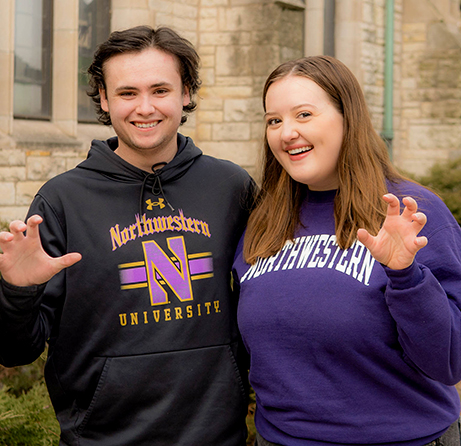 2022 Family Coordinators & Current FamCo Advisers
Nico Moralez & Chloe Lim (Class of 2023)