Laundry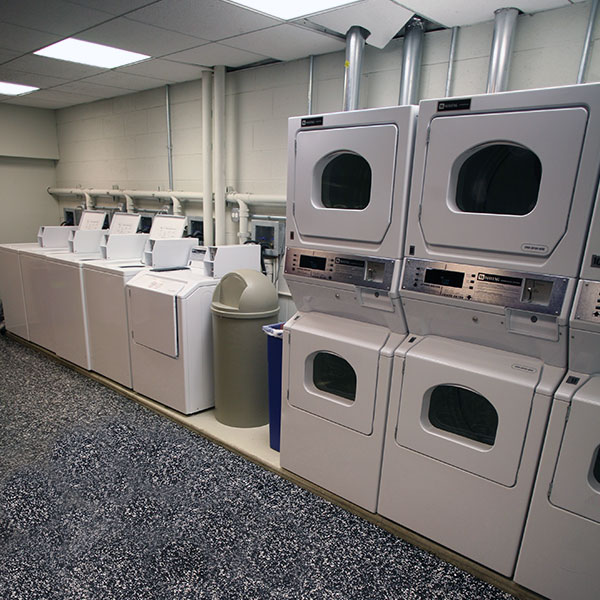 High Efficiency Machines
Our laundry rooms are equipped with high‐efficiency, front‐loading washing machines. They hold more clothes and use less water than conventional laundry equipment which saves you time and energy. For more information on these energy saving appliances and how they impact how you do laundry, visit clean and green vision.
What detergent should I buy?
For best results, use high efficiency (HE) detergent and always follow the manufacturer's directions on the detergent bottle label. With HE washers and detergent – less is more, since it's specially formulated for HE machines. Pre‐measured HE liquid packets are also recommended and are quite convenient.
Need laundry help?
If you have a stubborn stain, need a refresher, or a complete laundry education, check out The Campus Clothes Line™, a new interactive resource for all things laundry, including laundry instructions & advice, stain tips, videos, prizes and more!
Helpful Flyers
LaundryView
LaundryView is an online service that allows students to see which machines are available and even receive a text message when their laundry is done. Visit the NU Housing Portal for more details.
Non-Working Machines
If you encounter a problem or concern with any washer or dryer on campus, you can contact the laundry vendor, CSC Service Works, at 1-800-622-4729 or you can visit the NU Housing Portal Web App. You can also contact Operations Maintenance from 8:00 a.m. - 4:00 p.m. (847-491-5101), and they will submit a repair request. Please note if you report the concern directly to CSC Service Works (instead of first reporting the concern to Operations Maintenance), the company can provide a faster response.