What You Need to Know about Northwestern's New Resident Assistant Compensation Model
Changes Will Increase Opportunities for Students with High Financial Needs 
Northwestern Residential Services has announced changes to the way resident assistants (RAs) and senior resident assistants (SRAs) are paid, to better serve students with high financial need at the University. 
  
Previously, students with high financial need saw their financial aid packages negatively impacted by receiving their RA or SRA compensation from Northwestern. These changes will mitigate that impact.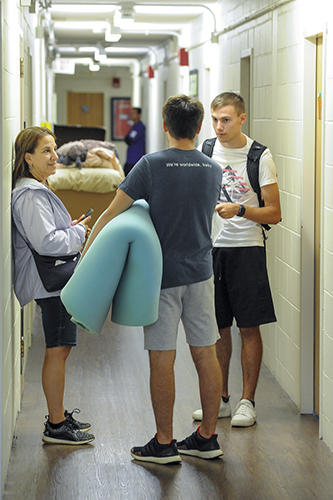 "Resident Assistants and Senior Resident Assistants are an essential part of fostering community on campus," Residential Services Executive Director Carlos M. Gonzalez said. "Our team reflects the diverse backgrounds of Northwestern students, but this new model will help us to eliminate a barrier for students with high financial need, a group that has been historically underrepresented in these positions." 
Here are the Basics 
Instead of room charges not appearing on student accounts, RAs and SRAs will be charged a discounted room rate ($9,500). RAs and SRAs will receive payments equal to $9,500 that can be used to pay room charges. The room stipend will be paid before all room charges are due. 
RAs will continue to receive the open access meal plan. This will not appear on student accounts. 
RAs will continue to receive a $1,500 taxable stipend paid monthly over a ten-month period (September to June) 
Senior RAs will continue to receive a $3,000 taxable stipend paid monthly over a ten-month period (September to June) 
"Since we announced this new compensation model, I've been thrilled to see a 16% increase in applications from students with high financial need," Senior Director for the Office of Residential Experience Deb Schmidt-Rogers said. "Our hope is that by spreading the word about these changes, students can apply to these integral campus roles with the confidence that their financial aid package will not be impacted as a Resident Assistant." 
  
This is the latest move from Residential Services, the Office of Undergraduate Financial Aid, Northwestern Human Resources and Student Affairs Human Resources to better serve students on campus and ensure Resident Assistants reflect the entirety of the student population. 
Residential Services previously announced an option for students to enroll in Continuous Housing, which provides students room and board in on-campus housing from the beginning of Fall Quarter through the end of Spring Quarter, including Winter Break. 
  
Students with questions about the new RA compensation model are encouraged to visit the Northwestern Financial Aid website or schedule an appointment with Angela Yang or Brian Drabik in Undergraduate Financial Aid to review your individual situation. Please note in your email request that you are or are applying to become an RA or SRA.