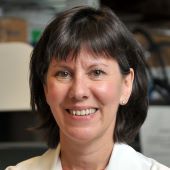 Elizabeth McNally
Professor of Genetic Medicine, Feinberg School of Medicine
Dr. Elizabeth McNally, director of Northwestern's Center for Genetic Medicine and the Elizabeth J. Ward Professor of Genetic Medicine at Northwestern University Feinberg School of Medicine, has received the 22nd annual Martin E. and Gertrude G. Walder Award for Research Excellence.
The award recognizes McNally's pivotal research into more effective methods for genetic monitoring and defining the genetic mechanisms that cause inherited cardiovascular and neuromuscular disorders. As director of the Center for Genetic Medicine, McNally leads her team in advancing understandings of how genetics play into human disease and how this information can be used to improve patient decision-making and therapies.
McNally studies a broad range of human diseases including heart failure, cardiomyopathy, muscular dystrophy, arrhythmias and aortic aneurysms. By defining genetic mutations that cause disorders in individuals, McNally has developed new models for disorders that inform new therapies, including genetic correction and gene editing..
Read the official announcement of McNally's award.