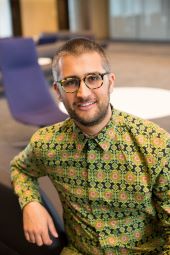 Adam Waytz
Professor of Management and Organizations, Kellogg School of Management
Adam Waytz, the Morris and Alice Kaplan Chair in Ethics and Decision Management and Chair and Professor of Management and Organizations in the Kellogg School of Management, was honored with the 21st annual Martin E. and Gertrude G. Walder Award for Research Excellence.
The award recognizes Waytz's pivotal work studying how people engage with others' humanity, including his insights into some of modern society's most insidious problems—such as increasing loneliness, automation and polarization—and ideas for how we might improve people's well-being in the face of these challenges.
Waytz uses methods from social psychology and cognitive neuroscience to study how people think about empathy, ethics and technology. He studies a broad range of topics, including geopolitical conflict, whistle-blowing, and psychological responses to automation, and is the author of "The Power of Human: How Our Shared Humanity Can Help Us Create a Better World" (W.W. Norton, 2019).
Read the official announcement of Waytz's award.