Sumitrajit (Sumit) Dhar
Associate Provost for Faculty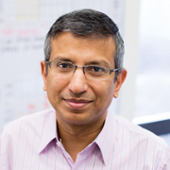 Sumitrajit (Sumit) Dhar joined the Office of the Provost in February 2021. He is the Hugh Knowles Professor of Hearing Science.
The Associate Provost for Faculty team leads faculty-focused initiatives and programs related to faculty support and development. The team also assists the Provost on faculty matters such as recruitment, retention, tenure, promotion and resource allocation. Sumit also oversees faculty policies and liaises with faculty groups such as the Faculty Senate. 
Sumit joined the faculty of the Roxelyn and Richard Pepper Department of Communication Sciences and Disorders at Northwestern in 2004. Prior to joining the Office of the Provost, Sumit served as Chair of the Department of Communication Sciences and Disorders and as Associate Dean for Research in the School of Communication. His research laboratory investigates the function of the inner ear and methods to improve hearing healthcare delivery.
Sumit earned his BSc from the University of Mumbai, India, his MS from Utah State University, and his PhD in Hearing Science with a concentration in Neuroscience from Purdue University. 
Phone: 847-491-8543
assoc-prov-faculty@northwestern.edu