Roma Khanna
Associate Provost for Strategy and Policy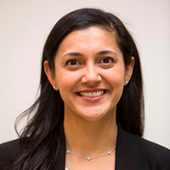 Roma Khanna joined the Office of the Provost in November 2020.
As Associate Provost for Strategy and Policy, Roma contributes to key strategic priorities and initiatives. She leads the University Policy Review Committee and manages University accreditation, state authorization and new degree program processes and approvals. Roma also oversees University-level leadership searches. She also is a lecturer in the School of Education and Social Policy.
Prior to becoming Associate Provost for Strategy and Policy, Roma served as Senior Director in the Office of Organizational Strategy and Change. She partnered with schools and units across Northwestern, facilitating organizational change projects to improve strategy, operations and organizational processes.
Earlier in her career, Roma worked as a management consultant, specializing in the design and implementation of large-scale transformations across multiple industries with a focus on organizational strategies for health care providers. Before becoming a consultant, Roma worked as a journalist at a number of publications, serving primarily as an investigative reporter.
Roma is a dual graduate of Northwestern, with a Bachelor's Degree in Journalism and a Master of Science Degree in Learning and Organizational Change.
Phone: 847-467-5317
roma.khanna@northwestern.edu