Mearah Quinn-Brauner
Senior Director for Strategy and Policy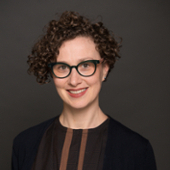 Mearah Quinn-Brauner joined the Office of the Provost in March 2020.
As the Senior Director for Strategy and Policy, Mearah provides strategic and tactical support for a wide range of activities within the Office of the Provost and the University more broadly, including senior searches, oversight of new degree programs and international partnership agreements, fulfillment of accreditation and state authorization requirements, dean reviews, and the development of University policy. 
Prior to joining the Office of the Provost, Mearah served as Deputy Chief of Staff and Assistant Vice Provost in Emory University's Office of the Provost. Before moving into roles in central administration, Mearah supported graduate students across disciplines through advising, program development, and cultivating intra-institutional collaboration in roles at Northwestern and the University of Chicago. Mearah also taught college-level writing, literature and film studies courses in the Philadelphia area.
Mearah earned a Bachelor's Degree in English from Oberlin College and a PhD and MA in English Literature from the University of Pennsylvania.
Phone: 847-467-5895
mearah@northwestern.edu