Lorraine Cassis
Executive Assistant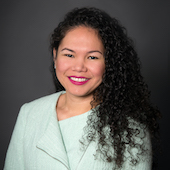 Lorraine Cassis joined the Office of the Provost in March 2018.
As an Executive Assistant, Lorraine supports the Associate Provost for Administration, Finance and Facilities, the Associate Provost for Strategy and Policy, and the Associate Provost for Faculty.
Prior to joining the Office of the Provost, Lorraine has served in other roles at Northwestern since 2010. During her time at the Kellogg School of Management, she coordinated academic events such as faculty recruiting, PhD recruiting, and research seminars and conferences for the Marketing, Accounting and Finance Departments. At The Graduate School (TGS), she coordinated administrative support to the Associate Dean of Administration and Planning.
Lorraine earned a Bachelor's Degree in Sociology with a concentration in Interaction and Group Relations from California State University, Long Beach. Outside of work, she spends a significant portion of her time volunteering. She also enjoys traveling and spending quality time with her family.
Phone: 847-467-5266
l-cassis@northwestern.edu