Leslie Kirchler-Owen
Director for Academic Facilities Planning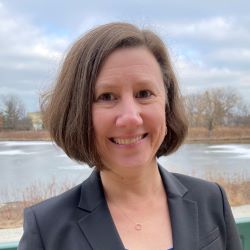 Leslie Kirchler-Owen joined the Office of the Provost in December 2022.
As Director for Academic Facilities Planning, Leslie provides strategic leadership for cross-department and school collaboration to support campus planning and academic capital projects. Leslie works closely with colleagues in facilities, central administration, and Northwestern's schools and administrative units regarding the development and maintenance of campus strategic plans.
Leslie earned a BS in Urban and Regional Studies and an AB in Archaeology and Anthropology from Cornell University, an MA in Landscape Archaeology from the University of Sheffield (England), and a PhD in the Interdepartmental Degree Program - Urban, Technological, and Environmental Planning and Landscape Architecture from the University of Michigan.
Leslie also is a certified planner (American Institute of Certified Planners [AICP]), a Registered Professional Archaeologist (RPA) and a Registered Environmental Professional (REP).
Phone:
847-491-3283
leslie.kirchlerowen@northwestern.edu