Brad Zakarin
Director of Academic Initiatives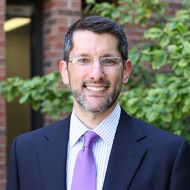 Brad Zakarin joined the Office of the Provost in March 2022.
Reporting jointly to the Associate Provosts for Strategy and Policy and for Undergraduate Education, Brad focuses on the leadership and execution of strategic initiatives in support of the diverse portfolio of academic and administrative responsibilities within the Office of the Provost. His primary responsibilities include facilitation and support of effective evidence-based decision-making through quantitative and qualitative analysis, the development of briefs and recommendations, and contributions to key processes and projects.
Prior to joining the Office of the Provost, Brad worked in other parts of the University, most recently as Director of Residential Academic Initiatives and previously as Associate Director in the Office of Fellowships. He has also held faculty appointments in the History Department and Cook Family Writing Program over more than a decade at Northwestern.
Brad holds an A.B. in History from Amherst College and a Ph.D. in History from Harvard University, where he later served as Resident Dean of a Harvard College house and Assistant Director of Undergraduate Studies in the History Department.
Phone: 847-467-1044
b-zakarin@northwestern.edu