Andrianna Kurzenberger
Senior Program Administrator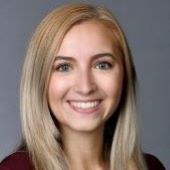 Andrianna Kurzenberger joined the Office of the Provost in August 2022.
As the Senior Program Administrator on the Strategy and Policy team, Andrianna contributes to key projects across the Strategy and Policy portfolio, such as the dean review process, University-level leadership searches and accreditation-related milestones.
Prior to joining the Office of the Provost, Andrianna served as Assistant Director for Alumni Engagement in Northwestern's Kellogg School of Management and Associate Director for External Relations in the University of Chicago's Office of Career Advancement.
Andrianna earned her Bachelor's Degree in Political Science from the University of Illinois at Urbana-Champaign and her Master of Science in Higher Education Administration and Policy from Northwestern.
Phone: 847-467-6443
andrianna.kurzenberger@northwestern.edu