Northwestern recognizes three cohorts of newly tenured faculty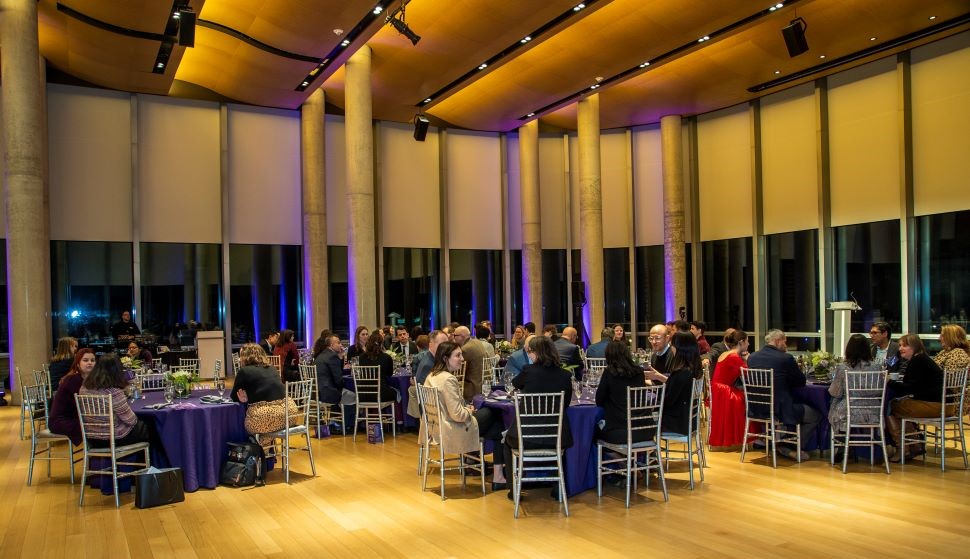 Northwestern honored 92 faculty members who earned tenure in 2020, 2021 and 2022 during a Feb. 6 ceremony in Evanston. The event, which had been postponed the past two years due to the COVID-19 pandemic, featured brief research presentations from six faculty members representing five schools.
"I cannot emphasize enough just how impressed I am with the quality of our faculty here at Northwestern," said President Michael Schill, who also is a professor in the Northwestern Pritzker School of Law and the Kellogg School of Management. "All of you here tonight embody the highest standards of excellence."
Among Northwestern's newly tenured faculty are winners of the Carnegie Fellowship, the Sloan Research Fellowship, the Young Investigator Award from the National Comprehensive Cancer Network and Foundation, and the New Horizons Prize from the Breakthrough Prize Foundation, as well as recipients of the Presidential Early Career Award for Scientists and Engineers and 10 National Science Foundation Early Career Award winners.
"You are all moving your fields forward in pioneering ways, and are making an impact on society," said Provost Kathleen Hagerty, who also is the First Chicago Professor of Finance in the Kellogg School of Management. "I know that well because I personally review each and every application for tenure. It's one of my favorite parts of this job because it serves as a reminder of the amazing work of our faculty, and strengthens my appreciation for our academic community."
Schill encouraged the newly tenured faculty members to always follow their passion and be willing to take risks.
"Perhaps most important, savor your success," Schill said. "You have each achieved something wondrous. Make sure you do something memorable."
2020 cohort of tenured faculty
Atique Ahmed, Feinberg School of Medicine
Norrina Allen, Feinberg School of Medicine
Irina Balyasnikova, Feinberg School of Medicine
Grant Barish, Feinberg School of Medicine
Lydia Barnett, Weinberg College of Arts and Sciences
Ankit Bharat, Feinberg School of Medicine
Lina Britto, Weinberg College of Arts and Sciences
Corey Byrnes, Weinberg College of Arts and Sciences
C Savio Chan, Feinberg School of Medicine
Nicholos Diakopoulos, School of Communication
Omar Farha, Weinberg College of Arts and Sciences
Eva Gottwein, Feinberg School of Medicine
Claudia Haase, School of Education and Social Policy
Marina Henke, Weinberg College of Arts and Sciences
Mark Huffman, Feinberg School of Medicine
Jessica Hullman, McCormick School of Engineering
Brannon Ingram, Weinberg College of Arts and Sciences
Rebecca Johnson, Weinberg College of Arts and Sciences
Kristen Knutson, Feinberg School of Medicine
Yevgenia Kozorovitskiy, Weinberg College of Arts and Sciences
Amanda Logan, Weinberg College of Arts and Sciences
Raffaella Margutti, Weinberg College of Arts and Sciences
Juan Martinez, Weinberg College of Arts and Sciences
Mark McClish, Weinberg College of Arts and Sciences
Michael Newcomb, Feinberg School of Medicine
Laura Pedraza-Fariña, Pritzker School of Law
Megan York Roberts, School of Communication
Tiffany Schmidt, Weinberg College of Arts and Sciences
Jorg Spenkuch, Kellogg School of Management
Dashun Wang, Kellogg School of Management
Erica Weitzman, Weinberg College of Arts and Sciences
George Wells, McCormick School of Engineering
2021 cohort of tenured faculty
John Joseph Carrasco, Weinberg College of Arts and Sciences
Jie Gu, McCormick School of Engineering
Ruchi Gupta, Feinberg School of Medicine
Yuan He, Weinberg College of Arts and Sciences
Thorsten Kahnt, Feinberg School of Medicine
Joseph Mazzulli, Feinberg School of Medicine
Joshua Meeks, Feinberg School of Medicine
Shmuel Nili, Weinberg College of Arts and Sciences
Magdalena Osburn, Weinberg College of Arts and Sciences
Sylvia Perry, Weinberg College of Arts and Sciences
Jennie Rogers, McCormick School of Engineering
Sarath Sanga, Pritzker School of Law
Gregory Schwartz, Feinberg School of Medicine
Adam Sonabend Worthalter, Feinberg School of Medicine
Amanda Starc, Kellogg School of Management
Amanda Stathopoulos, McCormick School of Engineering
Aravindan Vijayaraghavan, McCormick School of Engineering
Shirin Vossoughi, School of Education and Social Policy
2022 cohort of tenured faculty
Nabil Alshurafa, Feinberg School of Medicine
Katherine Amato, Weinberg College of Arts and Sciences
Daniel Barron, Kellogg School of Management
Tabitha Bonilla, School of Education and Social Policy
Paul Burridge, Feinberg School of Medicine
Qi Cao, Feinberg School of Medicine
Jaehyuk Choi, Feinberg School of Medicine
Paul DeCaen, Feinberg School of Medicine
Francesca Duncan, Feinberg School of Medicine
Piotr Dworczak, Weinberg College of Arts and Sciences
Benjamin Golub, Weinberg College of Arts and Sciences
Erica Hartmann, McCormick School of Engineering
Peng Ji, Feinberg School of Medicine
Kiarri Kershaw, Feinberg School of Medicine
Pedram Khalili, McCormick School of Engineering
Daniel Krcmaric, Weinberg College of Arts and Sciences
Matthew Kugler, Pritzker School of Law
Daniela Ladner, Feinberg School of Medicine
Yvonne Lee, Feinberg School of Medicine
Huiping Liu, Feinberg School of Medicine
Yuan Luo, Feinberg School of Medicine
Madhav Mani, McCormick School of Engineering
Sandra Marquez, School of Communication
Alexander Misharin, Feinberg School of Medicine
Elizabeth Norton, School of Communication
Siobhan Phillips, Feinberg School of Medicine
Mehul Raval, Feinberg School of Medicine
Jonathan Rivnay, McCormick School of Engineering
Michael Rodriguez-Muniz, Weinberg College of Arts and Sciences
Leoandra Rogers, Weinberg College of Arts and Sciences
Terri Sabol, School of Education and Social Policy
Courtney Scherr, School of Communication
Hannes Schwandt, School of Education and Social Policy
Benjamin Singer, Feinberg School of Medicine
Ronen Sumagin, Feinberg School of Medicine
Chloe Thurston, Weinberg College of Arts and Sciences
Maferima Toure-Tillery, Kellogg School of Management
Amisha Wallia, Feinberg School of Medicine
Theresa Walunas, Feinberg School of Medicine
Betina Yanez, Feinberg School of Medicine
Mee-Ngan Yap, Feinberg School of Medicine
Lynn Yee, Feinberg School of Medicine