Miriam Gamoran Sherin
Associate Provost for Undergraduate Education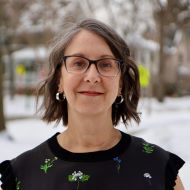 Miriam Gamoran Sherin joined the Office of the Provost in September 2018. She is the Alice Gabrielle Twight Professor of Learning Sciences in the School of Education and Social Policy.
As Associate Provost for Undergraduate Education, Sherin facilitates the enhancement of the undergraduate academic experience through partnerships with the undergraduate schools and Student Affairs. Her office provides resources and opportunities for undergraduates through several undergraduate education units. Sherin also serves in a leadership role for a variety of University initiatives, including the Undergraduate Student Lifecycle. Sherin's priorities are to enrich the educational experiences of Northwestern's 8,000 undergraduate students through collaborative cross-school and cross-unit undergraduate initiatives. She places a high priority on exploring strategies to promote success on the part of students who are underrepresented minorities, first-generation, and/or low income and who may come to Northwestern from under-resourced high schools.
Sherin joined the Northwestern faculty in 1997 and has served in a number of leadership roles during her more than 20 years with the School of Education and Social Policy, including Director of Undergraduate Education and Associate Dean for Teacher Education. Sherin's research seeks to improve our understanding of how teachers think and learn by examining a broad range of teacher knowledge across a variety of cognitive tasks. Most recently her research has focused on the construct of teacher noticing, looking specifically at teachers' professional vision — the ability to identify and respond to significant events in the moments of instruction. Sherin also has been at the forefront of efforts to design and study contexts that make use of video in ways that promote teacher learning.
Sherin earned a B.A. and M.A. in Mathematics from the University of Chicago and the University of California, San Diego, respectively. She received her Ph.D. in Science and Mathematics Education from the University of California, Berkeley.
Phone: 847-491-7040
assoc-prov-undergrad@northwestern.edu