Madison Pintér
Administrative Assistant for Administration and Finance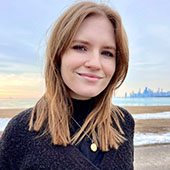 Madison Pintér joined the Office of the Provost in November 2021.
As the Administrative Assistant for Administration and Finance, Madison supports the business operations of the Office of the Provost, including budgetary and financial planning, human resources and IT administration.
Prior to coming to Northwestern, Madison worked in media advertising, sales and customer service for five years.
Madison earned a Bachelor of Arts degree in Media with a concentration in Cinema and Media Studies and Production from Indiana University. Outside of work, Madison spends a lot of her time traveling and spending time with her family in southern Sweden, where she grew up.
Phone: 847-491-2737
madison.pinter@northwestern.edu