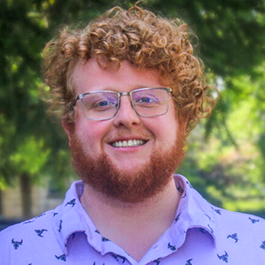 Program Assistant
Phone: 847-467-5530
Office: 2122 Sheridan, Suite 130
Brian (he/they) is the Program Assistant, assisting his team with scheduling, managing our inbox, and other administrative tasks.
He has long had a passion for communication. During his time at Indiana University Bloomington, Brian studied Psychology and Media, with a Minor in Marketing, and worked at the IU Auditorium as both a Student Manager and Seating Facilitator. After graduating, Brian served with the Jesuit Volunteer Corps (JVC), in New Orleans, where he was a Center Assistant at an open-air day shelter for people experiencing homelessness. Following the completion of his year of service, Brian had a variety of jobs in the Greater New Orleans area in the areas of event management and case management, the latter via a  Permanent Supportive Housing entity.
Brian relocated to Chicago and worked for the School of Professional Studies within Northwestern University for 4+ years, where he provided administrative support for his team as an Enrollment Assistant. While working at SPS, Brian began and completed his Master of Science in Communication degree through the School of Communication at Northwestern. He intends to bring both his coursework and experience to guarantee students and the Northwestern community at large access to disability services and accommodations.
In his spare time, Brian enjoys video games, spending time in nature, tabletop RPGs, comedy, horror movies, and live music.