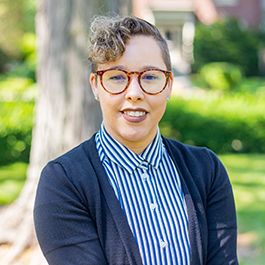 Assistant Director | Evanston Campus
As Assistant Director for AccessibleNU – Evanston, Elisa is responsible for providing reasonable accommodations for students with disabilities on the Evanston Campus. Elisa is passionate about empowering and supporting students to fulfill their goals within higher education and finds importance in collaborating with faculty, staff, and other campus partners to create more accessible, inclusive, and equitable spaces.
Prior to Northwestern, Elisa worked in various capacities supporting adults and students with disabilities within education and employment. Most recently she worked as an Accessibility Specialist at Loyola University Chicago where she was responsible for determining reasonable academic, housing, and meal plan accommodations while also educating others on campus-wide accessibility and universal design. Elisa's additional roles include supporting transition (K-12) students within Chicago Public Schools Office of Diverse Learner Supports and Services and within vocational rehabilitation where she worked with individuals to find and retain employment through job training and career counseling.   
Elisa currently holds the Certified Rehabilitation Counselor (CRC) credential and is a Licensed Professional Counselor (LPC) in the State of Illinois. She earned her Bachelor's of Science in Health Science (emphasis in Rehabilitation Services) and Master's of Science in Rehabilitation Counseling from Northern Illinois University. 
Outside of work, Elisa enjoys dancing, working out, attending Chicago sports games (she was born and raised in Chicago), and playing with her goldendoodle named Wrigley!