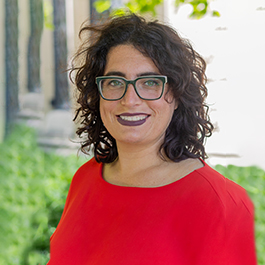 Housing Access Coordinator
As Housing Access Coordinator, Danielle Plung is proud to work with colleagues across the AccessibleNU and Residential Services teams to ensure that students with disabilities who live in campus housing have an equitable residential experience—including coordinating reasonable accommodations when necessary. She is passionate about providing access to empowering community experiences on campus and partnering with students and colleagues to ensure that Northwestern is an enabling place.
Danielle has been with Northwestern since 2019 and has previously served in various capacities across AccessibleNU and the School of Professional Studies. She holds a Bachelor's Degree in English Literature from the University of Chicago and is currently pursuing a Master's degree in Disability Studies through the City University of New York.
In her free time, Danielle enjoys science fiction, riding her adaptive cycle by Lake Michigan, scoping out the best places to watch the sunset, and comparing Chicago-area coffee shops.