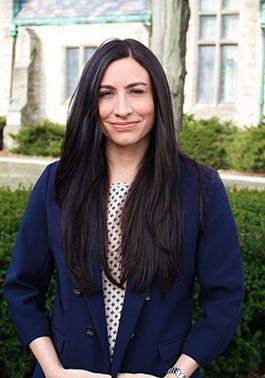 Associate Dean of Students and Director of AccessibleNU
Phone: 847-467-5530

Office: 2122 Sheridan, Suite 130
Jill Sieben-Schneider serves as the Associate Dean of Students and the Director of AccessibleNU (ANU) under the Division of Student Affairs. She is responsible for implementing the mission and vision of ANU through leadership, education, and outreach and serves on the Dean of Students Team through crisis response and student support initiatives. Jill remains active at the local and national level regarding disability and assessment in higher education and strives to proactively implement best practices to ensure students with disabilities receive a level playing field when they arrive at Northwestern.
Jill serves as a reviewer on the editorial board for the Journal of Postsecondary Education and Disability and was nominated by her peers to serve on the board for the Council for the Advancement of Standards in Higher Education, where she represents the Association for Higher Education and Disability (AHEAD). She currently serves on the national AHEAD executive board, was selected as program chair for the 2016 international AHEAD conference, and is the past president for the Colorado/Wyoming AHEAD affiliate.
Over the last 15 years, she has served in various capacities in education ranging from early childhood education to higher education. Prior to Northwestern University, Jill served in a leadership role in the Disability Services unit under the Diversity and Equity division at the University of Colorado Boulder where she also worked as an instructor in the higher education graduate program. She also worked in the McBurney Disability Resource Center at the University of Wisconsin-Madison where she also taught first-year students and the Disability Services Office at Ball State University. Prior to her transition into higher education, Jill taught middle and high school English in Denver Public Schools. Jill earned a doctorate, a bachelor's degree, and a 7th-12th grade secondary education licensure with a focus on Urban education from the University of Colorado Denver and a master's degree from Ball State University. She continues to pursue various areas of learning with a project management certificate from the University of Chicago and is in process of completing an instructional design certificate from Georgetown University.