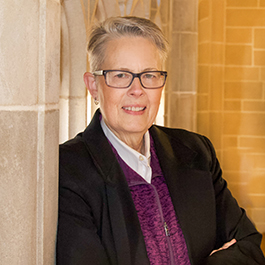 Associate Director | Evanston Campus
Debra serves as the Associate Director overseeing Access Services at the Evanston Campus. Her passion is empowering students to fulfill their potential and meet with success. Supporting staff and faculty and collaborating with campus partners are key factors essential to this outcome.
Early in her career, Debra was a classroom teacher for blind and visually impaired students. Before transitioning into higher education, Debra worked as a vocational evaluator with high school students in special education and as a rehabilitation counselor for adults with disabilities. She earned her bachelor's degree in Special Education and Elementary Education from Michigan State University; her master's degree from the University of Michigan in Rehabilitation Counseling; and her Doctor of Education in Counseling and Higher Education from Northern Illinois University. Debra is a Certified Rehabilitation Counselor (CRC).
Before joining the AccessibleNU staff at Northwestern, Debra was the Associate Director in the Student Accessibility Center at Loyola University Chicago. Prior to working at Loyola, Debra was the Director of the Disability Resource Center at Northern Illinois University and adjunct faculty in the College of Health and Human Sciences. She is a member of AHEAD (Association of Higher Education and Disability) and has served numerous positions on university committees and commissions, as well as the Illinois Board of Higher Education subcommittee on disability, and ILLOWA (Illinois and Iowa chapter of AHEAD).
In her free time, she enjoys kayaking, hiking, camping, cycling, cooking, gardening, and spending time with family and friends.