Check for Broken Links
You have two options to check for broken links:
Use Siteimprove (recommended)
It's a content auditing tool that will scan your sites for broken links, spelling errors and accessibility related issues. Fill out the form below to get access.
False positives in your broken link report?
It could be because the linked URL has a redirect, or the page didn't load in time, or the destination page requires a login. You can "exclude" such URLs from Siteimprove scan.
Use Cascade's inbuilt link checker
Cascade's link checker tool scans your site for any broken links once every Sunday morning and generates a report. You can view the report under Broken Link Widget on your dashboard. I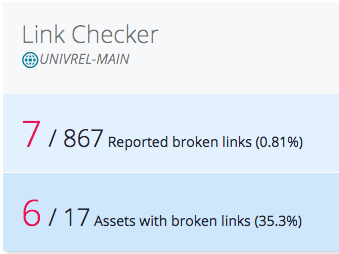 There are two ways to see this report – by broken links or by pages with broken links. You can view a detailed report by clicking on "Reported broken links" or "Assets with broken links" option.
Reported broken links report gives you a list of broken links on all pages whereas Assets with broken links will give you a list of all the pages with broken links.
You may sometimes see false positives in this report. This would be for links that require login or for links that are slow to load.