---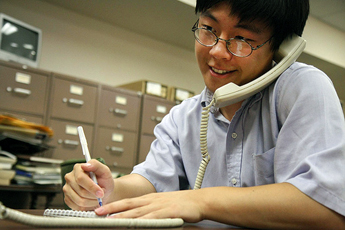 Like many journalism majors, Tom Giratikanon envisioned his future in newspaper reporting — writing stories on deadline and seeing his name in print the next day.
But during his freshman year he learned there was more to journalism — on the web.
Instead of hiding from journalism's Internet-based future, Giratikanon jumped right in. Despite little web site–building experience, he and his friend Patrick St. Michel, now a Medill School of Journalism senior, started a new online publication, North by Northwestern, so they could practice their multimedia skills.
"We didn't intend it to be a campus news source, more just a place for us to try out stuff," says Giratikanon, of Edmonds, Wash. "It wasn't at all like, 'We're going to change campus media.'"
But they did.
What started out as "two people in a dorm room posting stuff they wrote the day before" became an increasingly popular student publication. Each quarter the news site added new editors, beats, sections and reporters. About 75 students now work on the web site, which includes stories about everything from campus issues to international politics to fashion advice. The site attracts approximately 1,500 visitors per day from on-campus computers alone.
"NBN is way bigger and more serious than we ever thought it would be," says Giratikanon, who oversaw the site's growth as editor in chief during NBN's first two years. NBN even produced its first print publication, a glossy, four-color quarterly magazine, last spring.
"I thought it'd be a good way to reach more readers, because it would be more visible and widespread and something people could pass around if they liked," Giratikanon says of the print magazine. "I also thought it might attract and retain staff members who liked new media but also needed clips in print."
During his junior year Giratikanon reached out to NBN's campus news rival, the Daily Northwestern, to collaborate on 24@NU, a multimedia project that features 24 people and places associated with the Northwestern community at different hours throughout the day. Giratikanon, the project's "Backup Dancer," as he's credited on the web site, handled the programming and technical side of the site while working with Steph Yiu (J08) (see "The Storyteller," summer 2008) and a team of reporters to create the multimedia show.
After graduation Giratikanon, who was named one of the Scripps Howard Foundation's top 10 college journalists of 2008, hopes to work for a journalistic publication, whether it's in print, online or both. If he's learned one thing from NBN, it's that flexibility is key in a field that is constantly changing.
"I think the goal that I had in starting NBNwas to be less afraid of the changes in journalism, and that's definitely something I feel more comfortable with," he says. "If everything changes and the web blows up, we'd be OK with that. We'd be OK with trying something different."
— Annie Martin (J09, GJ09)