---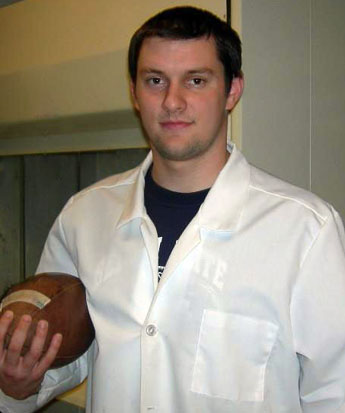 Wildcat Phil Brunner is proud to say he spent as much time in an engineering lab as he did on the football field during his college career.
"I'm the biggest nerd-athlete at Northwestern," says Brunner, an ESPN The Magazine Academic All-American and the Wildcats' starting long snapper for three seasons.
The former high school quarterback from South Milwaukee, Wis., walked on to the Wildcat football team as a freshman. The coaches, impressed with his strength, moved him to linebacker. Former head coach Randy Walker then asked Brunner to move to long snapper. He readily agreed, if the move would help the team.
"Football was really the one sport I fell in love with — especially the teamwork," he says. "It's the No. 1 team sport in the world, because you can go out on the field and you can hit someone else, but you have 10 other people there who have your back."
While other majors might have allowed him to focus more on his sport, Brunner decided to follow his love for math and chemistry. He finished his degree in chemical engineering in 2008.
The seventh of eight children, Brunner is following in the footsteps of his three older brothers, who are all engineers. And his younger brother, Brian, is a junior chemical engineering major at Northwestern.
Brunner remembers playing with building blocks with his brothers and believes that's what sparked the family love for engineering.
"I like discovering things, building things with my hands," he says. "That's what engineers do. They fix problems."
This year Brunner will graduate with a master's in materials science and engineering — and a 3.79 grade-point average. He says his position of long snapper gave him flexibility with his practice schedule, because he was only involved in punts, extra-point attempts and field goals.
Sophomore mechanical engineering major John Henry Pace, who is competing for Brunner's position on the field next season, says he learned a lot about balancing academics and athletics from Brunner.
"I like to say I'm an engineer first and a football player second," Brunner says. "I'm a student-athlete. Student comes before athlete. I never let football get in the way of academics."
This summer Brunner will do research in polymer science in Germany. He will begin a doctorate in polymer science when he returns to Northwestern in the fall.
— Christina Rosales (J11)