---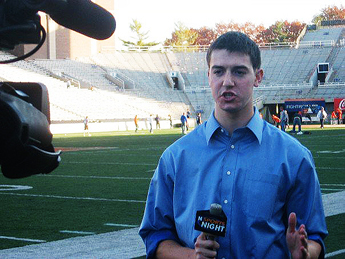 It was Henry Rosoff's second week at Northwestern, and the Medill School of Journalism student was doing a little more than getting his feet wet. He was getting soaked.
The producers of the Northwestern News Network show SportsNight had booked two spots aboard the men's soccer team bus for two reporters for a story on an away game. The producers picked the rookie Rosoff and another freshman who also had limited camera experience to go along for the ride. The two freshmen had one assignment: shoot video of the trip and the game to produce a video package for the show.
The trip was quite a learning experience.
"We framed things badly, and we didn't know what we were doing," Rosoff says. "It rained so badly that they stopped in the middle of the first half to try and let the rain subside. We were up 30 feet on a metal tower shooting it. After the game we walked back onto the team bus, soaked to the bone in our journalism dress wear, and the team just burst out laughing."
Rosoff is no longer wet behind the ears.
This past year he was news director of Northwestern News Network, the campus television news network. He and other NNN colleagues won a College Emmy at the College Television Awards last year for their work on SportsNight, and Rosoff won first place for best sportscast in the College Broadcasters Inc. competition.
He also won first place for best newscast and sportscast from the Students in the Illinois News Broadcasters Association competition, and he was a finalist for a Hearst award this year. Rosoff has produced video packages for Palestra.net, a college online media network, and has freelanced for ESPN and the Big Ten Network.
At first, Rosoff planned to work as a newspaper reporter. The summer after his sophomore year, the New Jersey native interned at the Courier News in New Brunswick, N.J. Rosoff spent only two days as an unpaid intern. After that he was hired full time because of his exemplary writing, video and Internet skills.
"At that point, I knew I could do this journalism thing," Rosoff says.
Last winter, Rosoff worked at KELO-TV in Sioux Falls, S.D. He was the first intern at the station to turn in a long-form package for February sweeps, a month when TV stations air their best programming to boost ratings and attract advertisers. The package was about pending legislative changes to privacy laws in South Dakota.
At Northwestern Rosoff completed his course work a quarter early, in March. In the spring he accepted a job as a nightside reporter with KXXV-TV ABC 25, a breaking news station in Waco, Texas.
It's the first step in his journey to a career in major network news.
"There's a baseball analogy I like to use," Rosoff says. "I want to be a reporter or a correspondent for NBC Nightly News or World News Tonight, one of the big three network newscasts. Where I'm going to have to start is Savannah, Ga., Toledo, Ohio, or someplace like that. If you're in single A, you want to be in double A. If you're in triple A, you want to be in the majors. I'm going to work my way up until I'm a reporter for NBC Nightly News."
— Elizabeth Weingarten (J10)