---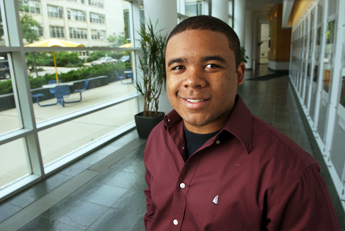 Neal Sales-Griffin is a people person. He claims he probably knows about 5,000 Northwestern students by their faces, about 1,000 of them by name.
"It's part of the job," says Sales-Griffin, former Associated Student Government president.
During his term, he worked to develop transparency in student government and increase communication with students. He restructured the organization to make it more responsive to student needs and create a culture of collaboration.
Sales-Griffin gained an incredible amount of business and leadership experience through not only ASG but also the Institute for Student Business Education. He helped reposition the former Nugget Group investment and business club into a Northwestern-based organization that aims to provide accessible business education to undergraduate students nationwide. He raised more than $20,000 in six months to fund ISBE's national magazine and annual conference.
He helped launch ContextMedia, a company founded by Northwestern students and alumni that builds waiting-room television networks to explain patients' health care options. He recruited and trained the initial sales force for the startup that has earned more than $1 million in revenues.
In 2007 Sales-Griffin served as chief operating officer for Flawless Cuts Barbershop, consulting for and managing two locations on the South Side of Chicago, including one in his Hyde Park neighborhood.
An associate with the Kellogg School of Management's Levy Institute for Entrepreneurial Practice, Sales-Griffin served as a teaching assistant for an entrepreneurship class taught by Troy Henikoff, a lecturer in Northwestern's Kapnick Business Institutions Program. Sales-Griffin also received the Kapnick Prize, awarded to the top Northwestern students who minor in business institutions.
Sales-Griffin's academic work gave him a theoretical base for leadership activities. He majored in learning and organizational change.
"What psychology is to human beings, LOC is to organizations," Sales-Griffin said to the School of Education and Social Policy's News Center. "You are able to analyze, organize and articulate, as well as act on the root causes in organizations and improve them."
Beyond his Northwestern experience, Sales-Griffin taught and coached students in low-income Chicago-area high schools as a mentor with the National Foundation for Teaching Entrepreneurship. As founder and director of Northwestern's Minorities in Business organization, he also enlisted his Northwestern undergraduate colleagues to help coach Chicago-area kids in business principles. Sales-Griffin, who is part African American, part Honduran and part Filipino, says it's important to work with these Chicago-area students because they rarely see strong African American men as mentors.
"Where I'm from, not a lot of people go to college and not a lot of people go to schools like Northwestern," he says.
Northwestern wasn't all business for Sales-Griffin. He spent a week living in a car at the Rock with classmate Mario Montes Sujo as part of Chevy's Livin' Large competition in fall 2006. They didn't win the car, a Chevy Aveo, and he still jokes about his disdain for a Northwestern icon.
"I stay away from the Rock now because of all the memories, " he says. "There are too many memories of those five cold days."
Though his plans for the future are still uncertain, Sales-Griffin hopes to stay close to home, in part so he can help take care of his family and pay off his student loans. He is exploring opportunities in entrepreneurship, consulting and social policy.
— Alice Truong (J10)