---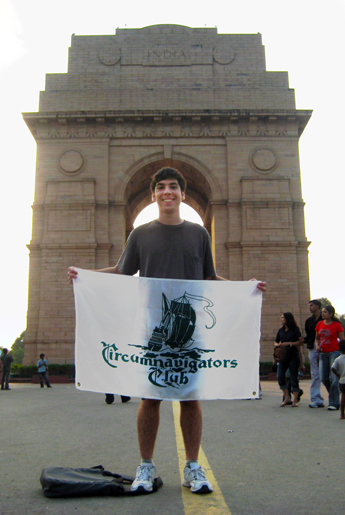 Morocco was the last place where Harris Sockel expected to find high school students searching for CliffsNotes on American literature.
But he watched with surprise as several students followed the owner of the English Bookshop in Rabat to the back of his shop to rummage through an old trunk full of Hemingway, Fitzgerald and Ellison CliffsNotes. "I thought it was really interesting that they weren't actually reading the books," says Sockel.
Sockel chronicled these observations as part of his Circumnavigators Club Foundation fellowship to study "American Literature's Global Circulation." The $9,000 award sent him on a nonstop ride through eight countries and three continents in 95 days. He studied American literature, especially in terms of translation and republishing, as he passed through England, France, Germany, Spain, Morocco, Tunisia, India and China.
The project grew out of his conversation with French-born Northwestern professor Marie-Thérèse Cunningham, a senior lecturer in French and Italian. Her perceptions about the great writers in American literature struck Sockel.
"If she thinks the most canonical American writers are people like Edgar Allan Poe and Phillip Roth," Sockel thought, "then what does that say about her views of America?"
Sockel found that U.S. politics also affect international views of American literature. "I saw that Parisians' thoughts about Barack Obama [H06] resonated with reading Jack Kerouac and romanticized views of the American West," Sockel says. "We really are still playing a romantic role in their minds."
At Northwestern Sockel's academic career serves as an example of the good that can come from pursuing changing interests. A voice major for one year, Sockel served as music director of the a cappella group Purple Haze during sophomore and junior years. He considered switching his major to math but finally decided on English with a focus on American literature and a minor in French.
Sockel's interest in English literature began in high school and developed when he taught middle school students near his hometown of Wynnewood, Pa., through Philadelphia's Summerbridge teaching internship program (now Breakthrough of Greater Philadelphia) in 2006 and 2007.
"From the first time I read J.D. Salinger's The Catcher in the Rye in high school, the book has always kind of stuck with me, and teaching these kids over the summer, I noticed a lot of the same things in Salinger in them," he says. "I noticed a similar kind of apathy and sensitivity to 'phonies' in the middle schoolers I was teaching."
Sockel was able to connect his interest in Salinger to a summer 2007 Northwestern Undergraduate Research Grant, which enabled him to study the books referenced in The Catcher in the Rye and the Princeton University archives of J.D. Salinger's writings.
Before departing for his globetrotting adventure last summer, Harris received a 2008 Beinecke Scholarship, which will provide $34,000 for doctoral studies in the humanities. First, though, he plans to take a year or two to pursue another passion: teaching. Sockel, who tutors Evanston middle school students for the America Reads program and Northwestern undergraduates in calculus for the Gateway Science Workshop, will be a secondary English language arts teacher with Teach for America in New York City this fall.
— Elizabeth Henley (WCAS09)