---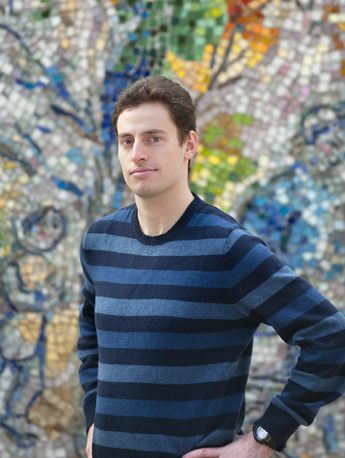 Can't we all just get along?
Political science major Jason Gutstein's answer to that question is short but resolute: "Absolutely." The key is getting people to talk with each other and, most important, to listen to one another.
The San Francisco Bay Area native grew up in one of the country's most liberal places, but at Northwestern he thought that religion was a significant barrier between student groups, and collaboration rarely occurred. Gutstein set out to change that.
His sophomore year he took a leadership role in Peace of Mind, a student group created to bridge the gap between Judaism and Islam through social events, dialogue and cultural exchange. As co-president of the group, he forged relationships with the leaders of Northwestern's Fiedler Hillel and the Muslim-cultural Students Association.
After Peace of Mind became a safe space for people to talk about their feelings at Northwestern, Gutstein wanted to expand to other college campuses in the Chicago area, where he felt the situation was even tenser.
"I wanted to take interfaith work to the next level and see that my impact could be more than just another campus activity at Northwestern and really have a lasting impact on the entire Chicago area," he says.
Gutstein stepped down as Peace of Mind's president to found the Student Pluralism Interfaith Network. SPIN creates a network where students from across the city can work together to share resources and advance the interfaith message. He organizes events such as interfaith career fairs and encourages students to attend events outside their own campuses.
Gutstein spent last summer calling administrator after administrator in the area to pitch his idea. And one by one, campuses decided to get involved, including Northwestern.
He now travels around the city to speak on interfaith topics to different faith groups, and he even made it down to the University of Illinois at Urbana-Champaign, a campus with a history of divisive religious tension. Jewish and Muslim students have clashed over perceived negative and biased messages from speakers whom each group has brought to campus. Rallies and counter-protests in the Main Quad are a common occurrence.
In his presentation to the leaders of Jewish and Muslim student groups at UIUC, Gutstein stressed different ways of thinking and encouraged conversation, honest dialogue and collaboration with others. A few weeks after his visit, Muslims and Jews at the University of Illinois were coming together on their own for "Mu-Jew" events and follow-up dialogues.
Gutstein's work with SPIN is just the beginning. After graduation he hopes to improve interfaith relations in Chicago. He wants to add to his communication skills in Spanish, French and Portuguese and learn other languages as well, so he can help take part in conflict resolution with cultures around the world.
SPIN, he says, is about bringing together students of all faiths. It's about overcoming differences to keep society moving forward and giving people a chance.
"If you don't have that personal connection," Gutstein says, "it's really easy to condense people into monolithic religious groups, but if you sit down and talk with someone, you'll quickly see there are lots of common factors between us and opportunities to work together."
— Marcelino Benito (J10)