---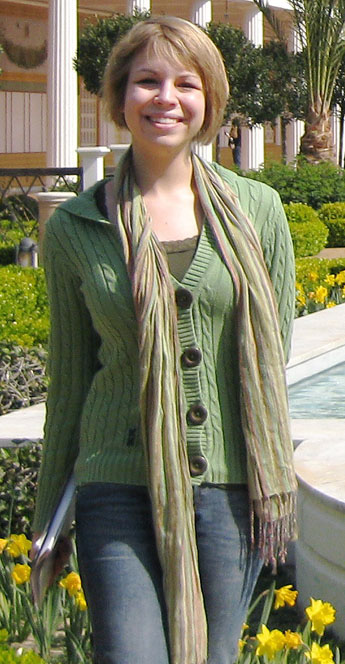 As editor in chief of the Daily Northwestern, Libby Nelson doesn't just have journalism running through her veins figuratively, she literally got a double dose of the reporting gene.
"My parents are both journalists," Nelson says. "I just sort of grew up around it."
Her father is the editor of the Lincoln Journal-Star in Lincoln, Neb., and her mother is a former editor and freelance writer.
But even with their dual influence, Nelson, of Leawood, Kan., says her parents never pressured her to work in the field.
"My dad tried once or twice to talk me out of it: terrible hours, terrible pay," she says. "But neither of them tried seriously to push me one way or another."
Despite her father's warnings, Nelson decided to join her high school newspaper. After three years of editing and writing, she became editor in chief her senior year.
A year later, Nelson, then a Medill School of Journalism freshman, started working for the Daily Northwestern. She began as a designer and later worked as a reporter covering student government. By junior year her résumé included University administration reporter, assistant campus editor, development editor and campus editor.
"I knew that I wanted to be campus editor, but for a really long time, my plan was to go abroad for winter and spring of junior year," Nelson says. "This meant I wouldn't have been there for spring of junior year, which is when the term of editor in chief starts. It wasn't until six months before I had to apply that I really started thinking about it seriously."
But it wasn't the first time Nelson had seriously considered her career in journalism. During her summer internships at the Times-Tribune in Scranton, Pa., the St. Petersburg Times in St. Petersburg, Fla., and the Star Tribune in Minneapolis, Nelson faced the demanding and strenuous realities of being a reporter.
"My second week in Scranton, the metro editor calls me into his office and says, 'We need another regional reporter, so you're going to cover 14 towns by yourself for the rest of the summer,'" Nelson recalls. "I was thrilled, but it was a little overwhelming at first. It was a lot of town council meetings, a lot to keep up with. I put a lot of miles on the car that summer."
This summer Nelson will travel to New York to intern at the New York Times. Nelson will work on the metro desk, reporting local stories during the 10-week internship. Ultimately, Nelson would like to work as a foreign or national correspondent for a newspaper. But if she doesn't find a job in journalism, she'll follow her second passion: French.
"I've only been to France for a week, but my plan B next year is to go and teach English in France for a year," says Nelson, who spent four summers working in an immersion French camp in northern Minnesota, where she taught French to students ages 8 to 18.
But despite the ambiguity of her future, Nelson has enjoyed her time at Northwestern. Some of her favorite memories come from working at the Daily.
"There were so many times when it was hard and it was awful, but then there were so many times when it was so much fun, and so rewarding," Nelson says. "I've met so many great people both inside Medill and outside Medill. I've made a lot of great friends at Northwestern."
— Elizabeth Weingarten (J10)