---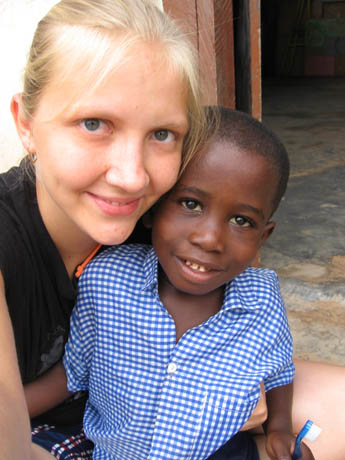 Tatiana Rostovtseva graduated from a high school that the state of Texas ranked academically unacceptable. But Rostovtseva had noticed problems at overpopulated and underfunded Bryan High School and had been thinking seriously about education reform even before her school received a poor rating.
"I decided to go into education reform to help high schools like my own," says Rostovtseva, a learning and organizational change major.
While at Northwestern Rostovtseva has worked for the past four years as a teacher's aide with kindergarten students at Oakton Elementary School in Evanston through the America Reads program.
During the summer after freshman year she worked with middle school students in Houston through the Breakthrough Collaborative, a national nonprofit program that helps a diverse group of middle school–age students get ready for college prep experiences. It uses a students-teaching-students model to place high school seniors and college students in 29 school settings around the country. Rostovtseva worked with inner-city students in Houston who were unable to perform at grade level. The goal of the summer program, Rostovtseva says, is "not just to catch them up to their peers but to get them ahead."
During the summer after sophomore year, Rostovtseva did research in Accra, Ghana, on nursery schools in the West African nation. She received funding from the School of Education and Social Policy and Career Service's Summer Internship Grant Program. She taught and consulted at Idea and Ideology, a family-run nursery school in Accra, helping to develop a standardized curriculum with individualized instruction plans.
While in Ghana Rostovtseva looked for ways to connect Idea and Ideology with schools in the States. "I brought back local crafts, such as Kente cloth, glass beads made in the Cedi Bead Factory and woodwork, to Oakton Elementary so that the kids could see and feel things from Africa. I felt that it was important for them to be able to touch things," she says. At the time Oakton was piloting an African-centered curriculum, which, Rostovtseva says, "shows the African American students immediate role models. It shows them that they can do great things."
"The curriculum is not only for African American children," she says. "For those without African heritage, it's great to have role models that are African or African American. And the region's history and culture are so fascinating that they capture the attention of all students."
Rostovtseva has studied other cultures as well. Seeing and working with students from all around the globe has allowed Rostovtseva to see the possibilities of different educational practices.
The summer after junior year Rostovtseva, also a Slavic languages and literature major, wrote and implemented a new curriculum to teach conversational English to schoolchildren at a recreational-educational summer camp outside of her hometown of Nizhny Novgorod in Russia. She also spent two quarters during junior year studying European social welfare systems in Ireland. Next year Rostovtseva plans to travel to India to work with a nonprofit educational organization on an American India Foundation Service Corps Fellowship.
"I think it would be fantastic if we developed more collaboration in education, especially across national boundaries," Rostovtseva said in an interview with SESP's News Center.
— Fathima Khan (WCAS09)