---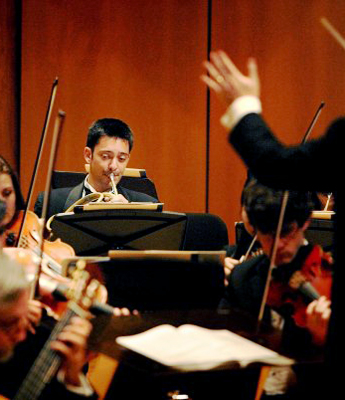 It's hard to imagine anything that could shake the confidence of fifth-year senior Yoni Kahn.
He was named a Goldwater Scholar his junior year and last spring won one of 12 Josephine De Kármán Scholarships for high-energy physics. He was one of only two undergraduate winners nationwide. Kahn has also studied at École Polytechnique in Paris and speaks French.
Last summer Kahn did research on particle physics at CERN, the prestigious European Organization for Nuclear Research in Geneva.
Yet, while walking the same halls as Nobel Prize winners in Switzerland didn't faze Kahn, playing the French horn can shake him up.
"I get really nervous about performing, and I've found ways to deal with that over the years," says Kahn, a physics, math and music major with a minor in music composition. Kahn is in the five-year double-degree bachelor of arts and bachelor of music program. Inspired by two musical parents, Kahn began playing French horn when he was in middle school.
"The French horn is the type of instrument where you never know the type of sound that's going to come out," says Kahn, of San Jose, Calif. "At least when I'm speaking, I know English is going to come out."
Kahn says playing French horn has made other aspects of his life easier.
"The mental process of preparing for a concert is totally different from anything else," Kahn says. "And then everything else is just so easy compared with that. If I go into practice, after 15 minutes I've just completely forgotten about all the physics stuff, and the music has sort of taken over."
Kahn even found time to practice his horn while he was at CERN last summer.
"I would go and play my horn in a little park by the side of the highway, where the sound of the cars would cover it up," Kahn says. "That's what I really remember — the stealth practicing."
Accompanying Northwestern professor Michael Schmitt as a research assistant at CERN, Kahn helped out his team in unexpected ways.
"The way that CERN works is that it's half in Switzerland, half in France," he says. "The machine that we were working on was on the French side, so I had to be the translator for our little physics team."
Kahn helped assemble the Large Hadron Collider, a particle accelerator that is used to study the elementary particles that make up the matter in the universe and the forces that govern their behavior. Among many of the proposed uses of the LHC will be a recreation of the conditions right after the Big Bang.
Kahn calls the LHC "the next big experimental advance in particle physics."
Back in the States, Kahn teaches a GRE class for Kaplan Test Prep and speaks regularly at the math department's Mathematical Physics Seminar for undergraduates and professors. He was named the top oral presenter at the 2007 Chicago Area Undergraduate Research Symposium.
In the fall Kahn will travel to Europe again, this time to study at the University of Cambridge. In February Kahn was one of two Northwestern students to receive the Winston Churchill Scholarship to study at Cambridge next year. He'll study math and physics and will pursue the certificate of advanced study in applied mathematics.
Kahn says he's excited to study at Cambridge so he can "get a better handle on the mathematical foundations of theoretical physics." The math he'll be learning is "the stuff that you're expected to pick up on the fly in graduate school." At Cambridge he'll have more time to see how all of the mathematical concepts fit together. After his year abroad Kahn will pursue a doctorate in theoretical physics at the Massachusetts Institute of Technology and hopes to eventually work as a professor.
For Kahn the past five years required a constant balancing act between his three majors. Nevertheless, he's appreciative of the opportunities he has had as a student.
"This is really the only school in the country that gives such strong support to this double-degree program," Kahn says of the opportunity to study both music and science at Northwestern. "I'm happy I came here."
— Elizabeth Weingarten (J10)