---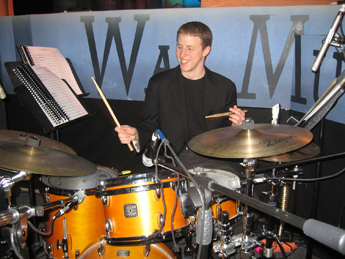 To be a percussionist, you have to be a jack-of-all-trades. And a music education major has to learn to play all of the band and orchestra instruments.
Ian Weinberger is both.
In his college career he has dealt with almost every instrument, from the timpani to coffee cans.
Weinberger, who grew up in Evanston, was raised on musical theater and jazz. His parents, musical theater fans, took him to Waa-Mu Shows and other Northwestern musicals.
So he has grown into his role in the Northwestern music and theater scene. Over the past few years he music-directed Sweeney Todd, Cabaret and Hair and served as assistant music director for the American Music Theater Project's In the Bubble and Dangerous Beauty. He also was music director of the 2009 Waa-Mu Show, One for the Books.
Weinberger also plays with the Northwestern University Symphonic Wind Ensemble.
As a former drumline captain with the Northwestern University "Wildcat" Marching Band, Weinberger says he has learned lessons in leadership and motivation, skills imparted by Michael Burritt, a former Northwestern professor of percussion who now heads the percussion department at the University of Rochester's Eastman School of Music.
"It was very obvious from the very beginning that he cared about us," Weinberger says of his influential former professor. "And one of his biggest lessons was that everybody should get along. If students don't like you as an instructor or leader, they won't play nearly as well."
For his music education degree, Weinberger student taught for a quarter at Vernon Hills High School in Lake County, Ill., where he conducted the band and taught music theory.
"When the kids gave me feedback at the end, everyone said the most important thing was that I spent time with them," he says. "And I remember Burritt once said, 'If my students give me 100 percent, I give them back 110. They need to know that you care.'"
Not one to agonize too much about the future, Weinberger is open to a range of career options, including teaching high school band or working in professional musical theater. No matter what, he says, "You have to have the attitude that you'd rather be nowhere else in the world."
— Sisi Tang (J11)