---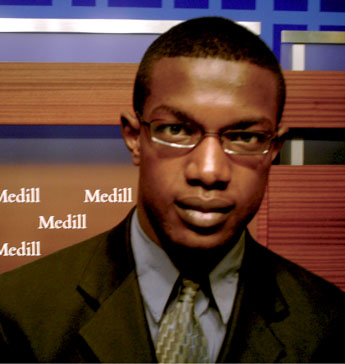 Video: Degree of Uncertainty — Alex Presha shares his thoughts on entering the workforce in a difficult economic climate with ABC7 in Chicago.
During his last quarter at Northwestern, Alex Presha was part of a student team working on a documentary about hate crimes, specifically the murder 10 years ago of Northwestern's first African American basketball coach, Ricky Byrdsong.
The coach was shot and killed by a white supremacist while jogging with his children near their home in Skokie, Ill.
The documentary, produced by three students as part of an independent study, will explore the history of Chicago-area hate crimes and their effect on the community. It is scheduled for completion in June.
"When I do stories like this, I look at myself and think, I can do this for a living," Presha says. "These powerful, compelling stories have an influence on society, and I love being the person who gets to tell them to the rest of the world."
Presha, who is from Atlanta, auditioned for the anchor position at Northwestern News Network during his freshman year. That he got it is a bit unusual, says NNN adviser Larry Stuelpnagel, assistant professor of journalism, but he has "a strong on-air presence and he also has been blessed with one of those very deep, resonant 'you want to listen to him' kind of voices." (Presha also used that voice as a member of the Alice Millar Chapel Choir.)
Presha, who later won a College Emmy Award for his work on NNN's SportsNight, recalls that he had no clue how to be an anchor during his first NNN broadcast. The teleprompter went haywire, and the novice Presha stumbled through his script as the show aired live.
"It was really kind of a humbling experience," Presha says. "I think that kind of set the tone for the way I approach things," with equal parts seriousness and sense of humor.
Presha needed a sense of humor when his work as a freelancer with Newsweek resulted in an assignment to shoot video outside of then–presidential hopeful Barack Obama's (H06) house for a video feature on the Hyde Park neighborhood. Presha encountered an unfriendly face, a secret service agent who "must have been 6-foot-5 and 280 pounds.
"That was a terrifying experience — to almost get frisked by the secret service," he says. "He just kind of grilled me and asked me who I was filming for."
But Presha says he was honored to be part of a project on Obama. "It's our history," he says.
Presha hopes to do more projects like this — without the frisking — as an entry-level reporter. Starting this summer he'll be working as a news associate for NBC in New York City. It's a one-year rotational position.
— Christina Rosales (J11)