---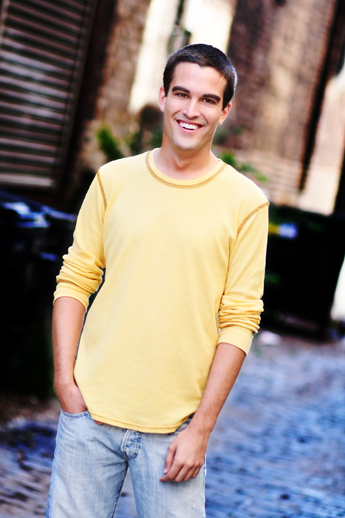 Nick Shultz loves how people respond when he tells them about his studies — in voice in the Bienen School of Music and criminalistics in the Weinberg College of Arts and Sciences.
"When I tell people my two majors they say, 'Oh, are you going to be a singing FBI agent or something?'"
Not likely, says Shultz, although he is not ready to rule out either career.
A music transfer student from New York University, Shultz came to Northwestern so that he could take advantage of the possibility of doing an ad hoc second major. "I've always been a singer, so I knew I wanted to do that. I also knew that I didn't just want a music degree," says Shultz, who found Northwestern to be "the right fit" after he arrived at the University for his sophomore year.
"I have no clue how I stumbled on criminalistics," Shultz says of the ad hoc major he created with the help of his adviser, Mark Iris. He began talking with Iris, a lecturer in political science, about developing the program of study after taking Iris' course Law in the Political Arena. "What the FBI does for our country really intrigues me," Shultz says. "They are much more than a law enforcement agency."
Shultz was one of two summer interns from Chicago, selected from among 200 applicants, with the FBI's gang unit in Washington, D.C., during summer 2008. "I was able to see the inner workings of the bureau, from the training academy to the take-down of a major case," Shultz says. "They were able to show me what a career in the FBI was like." After the internship the bureau offered him a job as a full-time analyst, and for the time being he has accepted the offer.
"I want to pursue singing or acting, or the FBI — I can't do both. I'll take this summer to really think things over," says Shultz, who plans to travel to Los Angeles and New York to explore the possibility of a recording career in pop, jazz and soul. He is currently determining how to best market his music.
Showbiz is not unknown territory for Shultz, who got an agent and began modeling for Abercrombie & Fitch when he was 17. Shultz, who hails from Mequon, Wis., has worked with designers representing retailers such as Armani Exchange and Kohl's.
At Northwestern he has been a part of shows such as Waa-Mu, Vertigo Productions' How to Wake Up and the Jewish Theatre Ensemble's A Funny Thing Happened on the Way to the Forum. He was a member of Freshman 15, an all-male a cappella group, and he will graduate with a certificate in music theater.
Shultz also served as president of the Northwestern club tennis team for three years. He had the chance to engage in some sibling rivalry when the Northwestern team and his twin sister's Miami University squad went racket-to-racket at the 2008 U.S. Tennis Association's National Campus Championship. "Both our teams had a great time," says Shultz, who played men's and mixed doubles. "Kristin and I have been playing tennis together since we were little, so it was great for our teams to face each other."
Shultz realizes he is wrapping up his undergraduate career in a good position, since he already has a job. "It's nice to have a little security, something to fall back on," he says. But this potential FBI agent is not giving up on music just yet. "If I had my perfect future, I would be singing."
— Elizabeth Henley (WCAS09)