---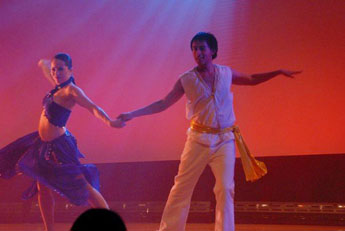 In summer 2008 Jessica Lozada returned to her high school, Noble Street College Prep, to give back to the place that led her to Northwestern.
She student-taught that summer at the charter school in Chicago's West Town community. She worked with students in the same classrooms where she once dreamed of attending college.
The communications major also discovered a new goal: to be an educator.
While at Northwestern, Lozada became involved with the Latino community, working closely with Alianza, the University's largest Latino student group, and serving as a student assistant for the Office of Hispanic/Latino Student Affairs. Through Alianza Lozada met Latina students from Lambda Theta Alpha Latin sorority. She later joined the academic sorority and served as president during her senior year.
"I wanted to find a community to fit in," says Lozada, who is Puerto Rican. "The Latino population here is so small, but through my involvement I learned that being Latina is a big part of me."
She danced with and choreographed Latin performances for Ballroom, Latin and Swing Thing, or BLAST, a Northwestern dance group. She choreographed salsa, merengue, cha cha and bomba, a folkloric dance from her Puerto Rican culture.
For Lozada, dance has always been a way to connect with her culture. "I grew up dancing and haven't stopped," says Lozada, who is from Humboldt Park, a largely Puerto Rican neighborhood on Chicago's Northwest Side. "My culture and my family value dance. My late grandmother founded a folkloric dance group, Las Semillitas, for the youth in Humboldt Park many years ago. She is remembered as a great leader in our community. Through her, dancing is a major part of my family. At any gathering, there is music and dancing."
Lozada combined her commitment to her cultural community and her passion for education to help Chicago-area Latino students and encourage them to go to college through her sorority's partnership with GEAR UP, a federally funded, six-year program that works in partnership with Chicago Public Schools to prepare students for success in postsecondary education.
"We worked with mostly low-income students and brought them to several Illinois campuses," she says. "They saw what it's like to live on campus and what they can have for themselves."
Lozada's outreach efforts impressed Christian Yañez, director of Northwestern's Hispanic/Latino Student Affairs.
"I think she has a desire to see people who are from her background succeed," says Yañez. "She wants to be able to give back to her community."
Lozada will continue to give back during her two-year commitment to Teach for America. The 22-year-old will teach either middle or high school math in Miami.
"My major goal is to instill the idea of attending college in these students," she says. "I want them to believe they can get there."
— Christina Rosales (J11)