---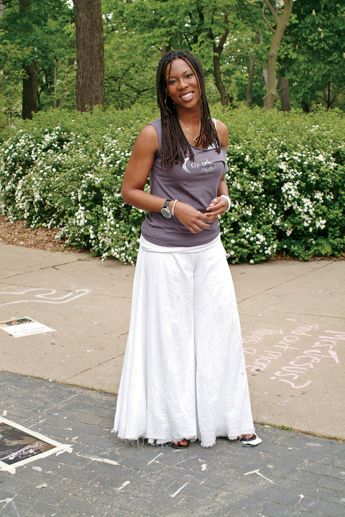 Courtney Sharpe has people all over the globe.
The former Northwestern chapter president of AIESEC, one of the world's leading international exchange organizations, Sharpe has visited 18 other countries on four continents.
Among her travels, Sharpe worked in the Ivory Coast; studied in Israel, Turkey and Spain; and volunteered for Alternative Spring Break trips to Tanzania and Brazil.
Sharpe (see "Campus Fashion," fall 2006) was first exposed to the international scene in seventh grade when she left Houston for Switzerland to study Spanish at the American School in Switzerland because she was too young to be admitted to the program in Spain.
Since then Sharpe has not only traveled all over the world but also studied French, German, Italian, Hebrew, Turkish and Arabic. "I had this crazy goal of being able to communicate with all my friends in their native languages, because why should everyone have to speak English?" says Sharpe.
Sharpe's work in the Ivory Coast remains one of her most important journeys. Through an AIESEC (Association Internationale des Étudiants en Sciences Économiques et Commerciales) traineeship program during the summer after her sophomore year, Sharpe interned at a marketing firm and facilitated a class on entrepreneurship for college students there.
The only African American member of Kappa Kappa Gamma sorority, Sharpe says, "It was weird to be black in a place where everyone else is black, because that never happens in my life. I don't think many people in the Ivory Coast realized I was not from there, and I was not accustomed to this feeling of acceptance."
Consistent with her international interests, Sharpe served as president of the University's chapter of AIESEC. In spring 2008 Sharpe took the lead in managing AIESEC Northwestern's Global Village, a day of international exchange in which campus cultural and ethnic groups and individuals representing 15 nations bring music, dancing and food to Parkes Hall.
Interestingly for one so passionate about international affairs, Sharpe switched her major from international studies to religion in the Weinberg College of Arts and Sciences. She traveled a religious journey from the Catholicism of her birth to agnosticism to atheism to Judaism, which she discovered at age 15. "I had been trying to figure out my place, what I believed, and I realized that I didn't really believe some of the central tenets of Christianity," says Sharpe, who is involved in Fiedler Hillel at Northwestern and studied abroad at Hebrew University of Jerusalem. "I really enjoyed the Jewish service. I felt it really spoke to me. It really made sense."
Sharpe, who dreams of joining the U.S. Foreign Service, aspires to become an ambassador. She is waiting for the results of a Peace Corps nomination to work on community development in Eastern Europe after graduation. Her other alternatives include going on an AIESEC traineeship in India or traveling to the Middle East on an AIESEC Salaam Program, a cultural exchange between the United States and Arab countries.
— Sisi Tang (J11)