---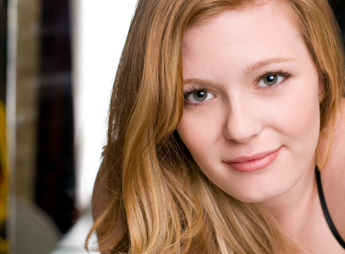 Catherine Brookman admits she was not familiar with a cappella music when she arrived at Northwestern. Classically trained in voice at an arts high school in Baltimore, she had never even heard it.
Four years later, though, Brookman's an award-winning arranger working on two a cappella songs simultaneously.
"When I heard Purple Haze freshman year, it just seemed to have all the qualities I was attracted to," Brookman remembers. "It looked like the members enjoyed getting together and making beautiful music with just their voices. It was really powerful."
Brookman joined Purple Haze, a co-ed a cappella group at Northwestern, in spring 2006 and by the following year was already arranging music. She soon became the group's music director. With a background in voice, piano and the cello, it didn't take Brookman very long to get the hang of arranging. She confesses, though, that her first attempt didn't go so well.
"It was a disaster," Brookman laughs. "What I heard them sing that first time at rehearsal wasn't at all what I thought I wrote. You have to provide structure for the whole group without making it too repetitious. It's really hard!"
She's put together nearly 10 songs, including one — "Samson" by Regina Spektor — that earned her the honor of Outstanding Arrangement from the International Championship of Collegiate A Cappella when Purple Haze made it to nationals in 2008.
"My favorite pieces are those where the singers just use their voices," Brookman explains, "when you don't have to 'boop-boop,' 'jeng-jeng' or act like instruments. Just sing and create synergy with beautiful voices."
Brookman hasn't abandoned her classical vocal training and won an international singing competition in Wales before her junior year. While majoring in vocal performance at Northwestern's Bienen School of Music, she created her own double major: integrated arts. The course work combined a variety of relatable topics, including dance, writing, acting and music theater.
"I wanted to go to a school like Northwestern where I could learn the art of singing with a program that also teaches you how to act," Brookman says. "So many wonderful singers don't know what to do with their bodies, and stories can't be told as well that way."
Brookman credits her acting classes for her greatest improvement. She now feels much more comfortable performing onstage, whether it's in an opera, a musical, a concert or a straight play — all of which she did at Northwestern.
All the new skills she's acquired while at school give Brookman confidence to step out into the world. She already has an agent in New York City and plans to move there in July to begin auditioning for theater. That's the plan at the moment, but she knows at any point she can switch gears and focus on writing or acting or anything else she's learned.
"I have a lot of musical skills, done a lot of arranging, know a lot of music and have written a lot on the side," Brookman says. "I want to figure out how to combine those things and make a career out of it."
— Ryan Morton (J08)